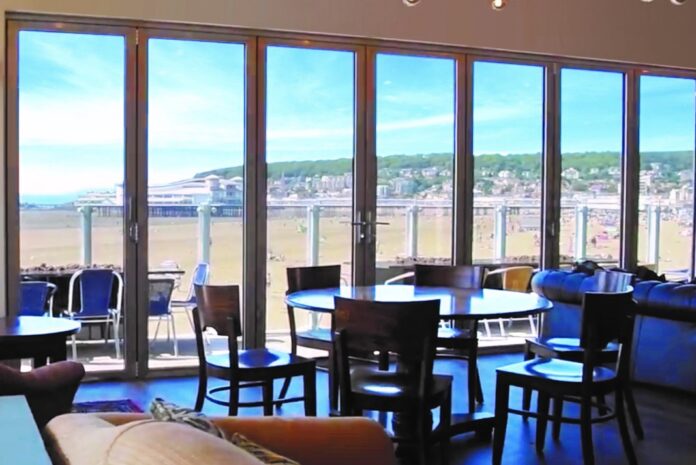 Sliding doors have become a mainstay for commercial venues. They help to maximise space and meet the trend for biophilic design, which brings the outside in and helps create a sense of harmony between contemporary buildings and the natural world.
Folding sliding door systems specified for such commercial projects need to be far stronger and more robust than those used in domestic settings, requiring highly engineered hinges, joints and frames to ensure long-term reliability. That's why Kestrel's folding sliding door system is PAS 24 accredited and has been rigorously tested to 25,000 cycles to BS EN 1527 standards.
Kestrel's customers can rest assured that they are investing in a robust, reliable and secure product, according to the business' representatives. Features of the door system include multipoint locking and shootbolts as standard. The aluminium frames can accomodate toughened or laminated safety glass in thicknesses from 24 to 32mm.
For businesses that need to provide easy access for wheelchairs and other mobility devices, Kestrel can also supply a low-threshold option with a 13mm step. Flush tracks offer ease of access and create a clean, neat aesthetic that Kestrel's representatives say complements any contemporary interior design.
"Perfect for use in restaurants, bars and leisure spaces, our folding sliding doors maximise views outside and create a bright, airy space for natural light to flood in." one representative said. "Our slimline handle styles also mean that the doors can stack neatly flush against each other, creating more space for furniture such as tables and chairs."
For properties in weather-exposed locations such as seafronts or hillsides, Kestrel has its own in-house powder-coating facility and can offer marine-grade anodisation to thickness grade AA25 as well as single or dual-colour powder coating. These coatings help protect the aluminium frames.
Kestrel holds significant product volumes in stock at its Birmingham-based manufacturing facility, so customers can enjoy short lead times and a quick turnaround from the acceptance of drawings through to ordering materials, manufacture and installation, Kestrel's representatives reported. The business' technical team is also on hand to support customers throughout the delivery and installation of the final product.
Andrew Cross, Kestrel's marketing manager, said: "At Kestrel, we pride ourselves on our high-quality products and technical expertise, which allows us to offer our customers outstanding customer service. Our folding sliding door system is robust, reliable and secure, and can be delivered and installed quickly and easily." For more information about Kestrel Aluminium Systems visit kestrelaluminium.co.uk or call 0121 333 3575.