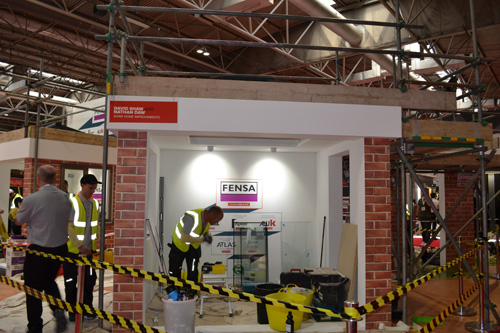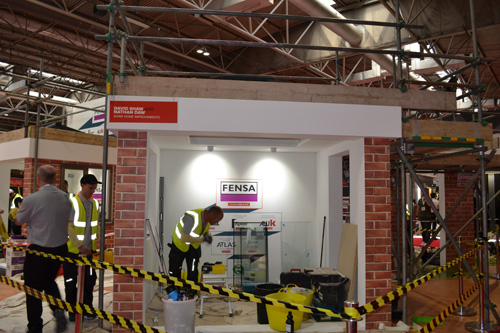 Atlas says its contemporary glazed lantern 'stole the show' as the 'crowning glory' in the 'Master Fitter Challenge' at this year's FIT Show.
Crowds of show-goers flocked to see six teams install a range of glazed products in the two-day contest, which started with fitting a four-pane Atlas contemporary lantern on day one. According to Atlas, onlookers were impressed with the 'fitter-friendly' lantern, which all teams installed 'with ease'.
David Shaw and Nathan Daw from Norfolk based Shaw Home Improvements won the 'Roof Lantern Challenge' element of the contest, while David Keates and Jonathan Mountford from DK Windows collected overall first prize in the Master Fitter Challenge.
David Shaw, owner of Shaw Home Improvements, said: "We were thrilled to pick up the gong in the Roof Lantern Challenge. We were up against some very experienced installers in the competition so it was a massive achievement for us to win this award and to come second in the overall contest.
"We've been working with the Atlas roof for around three years so we know that it is a quality product and a 'fitters dream' to install. It was easy to fit the Atlas lantern in this challenge and it looked superb. Even though it was a relatively small lantern, you could see that its minimal design and maximum glazing sets it apart from more traditionally-styled products."
Claire Miller added: "The Master Fitter Challenge has become a highlight at the FIT Show and it celebrates the best installer talent in the industry. The Atlas lantern was chosen to be the first ever roof lantern in the contest because of its clean lines, modern looks and reputation for being straightforward to install.
"The Atlas lantern lived up to expectations in the contest and all the installers found it easy to work with. Well done to everyone who took part in the competition and congratulations to all the winners. The six finished 'pods' looked fantastic with the Atlas lantern, window and doors fitted."
The Master Fitter Challenge saw a shortlist of six skilled installers compete against each other to install a range of glazing products, including the Atlas lantern, on their own 3×3 metre pod during the live finals at the FIT Show.
The finalists were judged on the quality of every element of their installation and scrutinised for their attention to detail. Behind DK Windows in first place and Shaw Home Improvements in second place was West Yorkshire Windows who came third.