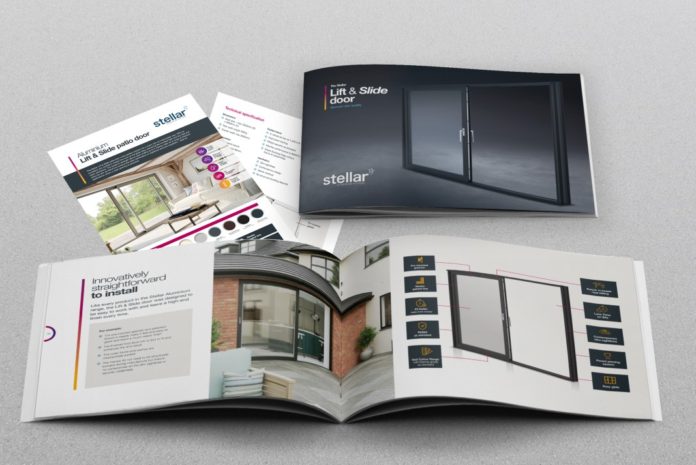 Epwin Window Systems has released a suite of literature for its Stellar lift and slide door. Gerald Allen, Epwin's marketing manager, said: "The lift and slide door is fast becoming the aluminium sliding door of choice for fabricators and installers, and this suite of literature will help them tap into the opportunities in a growing market."
The literature suite consists of a 16-page brochure, which has information for both homeowners and installers. It includes full details about the lift and slide door, highlighting its technical and security credentials, colour options and accessories. Alongside the brochure, a technical data sheet and a configuration chart are provided.
"The brochure is packed with lifestyle imagery to help show homeowners the beauty of Stellar aluminium lift and slide doors," explained Gerald. "The technical data sheet and configuration guide give at-a-glance information, to help busy fabricators and installers."
Siding doors are having a resurgence thanks to homeowner demand for large glazed areas. The Stellar lift and slide door is available in two-, three- and four-pane variations, and is suitable for openings of up to 6.5 metres. Sash widths of up to three metres wide are possible with a choice of 96mm, 68mm and 50mm interlock widths to achieve the best combination of 'perfect' sightlines and size capability.
The doors are easy-to-use, its makers claim, thanks to the use of lift and slide technology, which means there's a built-in system that takes some of the weight when opening the panes. The range of threshold options means that the door can meet various access needs, including a low threshold for an almost seamless transition. Others are designed to offer easy access for wheelchairs and for more exposed locations.
Stellar customers can order copies of the new literature by logging into the Connect digital resource portal. Further information about Stellar can be found online at stellaraluminium.co.uk.