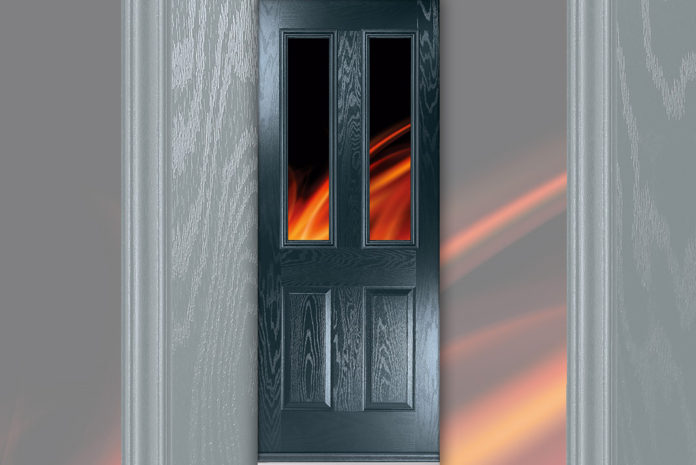 The Guardsman fire door slab, from composite door supplier ODL Europe, has received strong interest since its launch in late 2020. Nathan Barr, managing director of ODL Europe, said: "The commercial sector is very interested in the Guardsman fire door for good reason. It offers reliable performance and consistent test results over and above anything else currently seen in the composite fire door market."
The Guardsman's performance – in both glazed and unglazed versions – has proved unrivalled, they say. The door has been tested to the European fire test standard of BS EN 1634-1:2008, the more onerous test standard required by building regulations. On average, the door has achieved a 100% overrun past the 30-minute mark. In some instances, it achieved over 70 minutes.
This performance has been secured by going back to the drawing board on the door's construction. The phenolic foam core typically used in a composite fire door manufacture has been replaced with more stable Agrifiber, which is a board material made from resin-bonded agricultural fibres. At the right density, the material provides the structural properties and stable fire resistance required. It is also a green building product, which will help specifiers wanting to maximise the environmental standards of a scheme.
The Guardsman door can be fabricated to a range of sizes from just two base designs, offering fabricators manufacturing economies. More importantly, it also helps to ensure the door still meets the required standards, even when assembled by different fabricators. Aside from the test results, the door also features hardwood stiles and rails and 2mm Capstone GRP skins, making it is low maintenance and able to withstand the rigours of high-traffic areas.
The Guardsman Fire Door is the result of a six-figure investment by ODL Europe. The company worked with Capstone engineers, the world-leading supplier of composite doors, as well as several other experienced fire door fabricators.