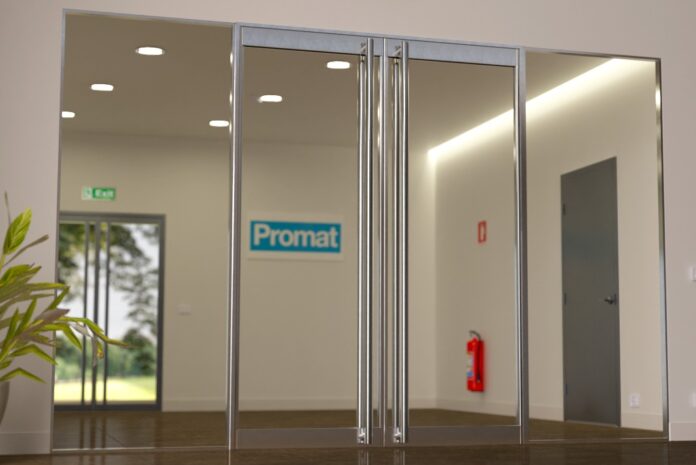 Promat UK has developed two new steel-framed glazed door systems and a timber door set, aiming to provide specifiers with assured fire safety solutions in domestic, public and commercial buildings. All three door sets by the passive fire protection systems specialist are available in EI30 or EI60 specifications, which means they will retain their integrity and provide effective insulation to protect people and assets in the event of a fire for either 30 or 60 minutes.
The new steel-framed doors — the Pyrosec door and Slimlite — allow fire doors to be integrated into fire resistance screens and partitions with ease, according to Promat UK, maximising light transmission and vision without compromising safety. Both are designed to integrate with the Promat Systemglas Ferro fire-resistant glazing system, which aims to provide architects and specifiers with a complete glazing solution backed by third-party test evidence and Promat's 360-degree 'Wheel of Assurance'.
The Pyrosec door is marketed ad providing strong aesthetic appeal with large vision panels. It is available in a single- or double-leaf configuration, with minimal stainless steel frame members. It has compatibility with over panels and side screens that allow for clear butt joint glazing.
For applications where a slimmer frame is sought, Pyrosec Slimlite is set to meet the brief. The glass area is maximised thanks to a super-slim 20mm frame section, 25mm stiles and 90mm rails, making it one of the most slimline fire-rated doors available in the UK, according to Promat.
The third new fire door from Promat, a timber door set, offers the same fire resistance as the two Pyrosec options for applications where a traditional timber solution is required. It integrates with the Promat Systemglas Ligna glazing system.
The new fire-rated door sets, along with the complete Systemglas range, can be fitted by Promat-approved installers, which ensures complete traceability of the installed product. Promat can provide a post-installation certificate of conformity because it is in control of the whole supply process — from raw material sourcing, design and manufacture to installation — adhering to the 'golden thread' approach that is being encouraged among the wider construction industry.
Cath McLean, Promat UK's segment manager – glass, said: "We are delighted to be able to be launching these three new door sets. With no margin for error when it comes to the design and installation of passive fire protection products, it is important that specifiers and installers have access to the systems they can depend on. That's why we invest in creating fully tested complete systems which ensure risk is minimised at all points in the supply chain – ultimately providing peace of mind for clients and the end users of buildings."
To find out more about Promat Systemglas and the latest new fire-rated door sets, email promatuk@etexgroup.com. Alternatively, call 0800 588 4444.