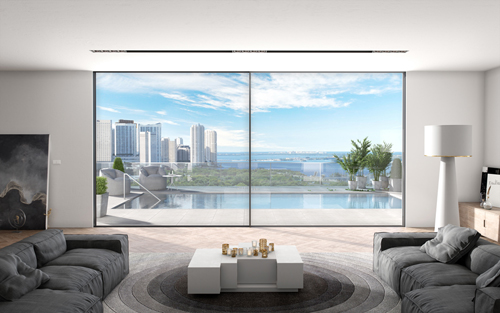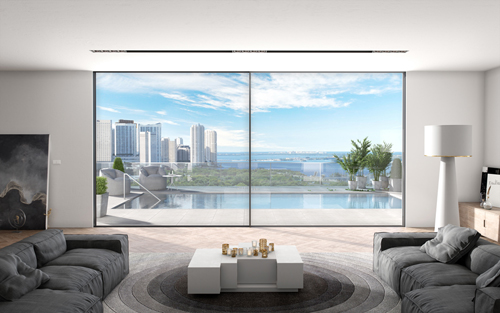 Alufolddirect is now offering the Infinium sliding door from Aluk.
"Infinium is the product that takes framing a view to dizzying new heights," explained Craig Miller, managing director at Alufolddirect. "Concealed frames, motorised opening and a sightline of just 21mm – what's not to love?"
Said to be the 'perfect system' for installers who need wall-to-wall glazing for impressive, modernist home designs, Infinium offers minimal interruption with super-slim sightlines and a fully concealed outer frame. A flush threshold and fully concealed hardware finishes the minimalist look.
Infinium is a double track system. Sash sizes are up to 3,000mm wide and 3,500mm high, and there are configurations available with up to four sashes, for the widest openings. If also offers double thermal breaks, 'U' Values as low as 1.0 W/m2K and the option of double or triple glazed units.
The system's aluminium rollers reportedly offer 'effortless glide' whilst a custom-made motorised lock and sliding system opens and closes the doors at the touch of a button.
Craig added: "As an approved fabricator, we are one of the only companies who can offer this fantastic system to installers. Before installation companies can add this product to their offering, they will need to qualify as a certified installer by attending a free, one-day course at the aluminium installer training academy at our factory in Blackburn.
"Infinium is a great bit of kit and precision is absolutely essential to get it right on site first time. The certified installer scheme offers an extra benefit and peace of mind to homeowners, architects and project managers too.
"Infinium isn't just about style – it's a superb combination of technology, engineering, precision manufacturing and flawless fitting for a stunning finish."
https://alufolddirect.co.uk/infinium-minimal-frame-glazing.html