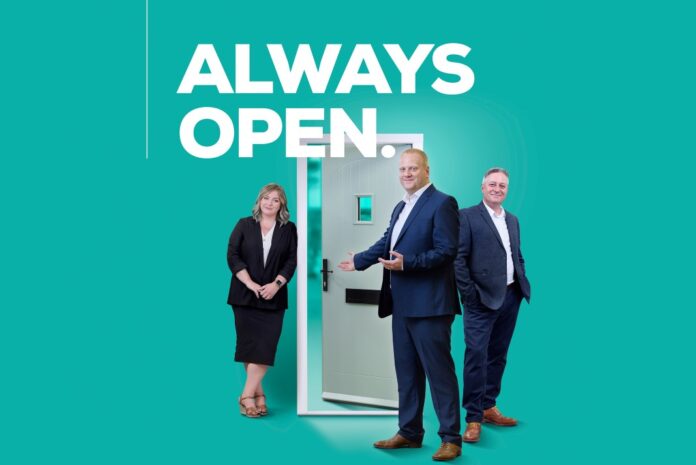 Judges have awarded Solar Calibre Doors the Best Fit Show Marketing Campaign for 2022 (above 70m²) Award, for the business' 'Always Open' campaign. The decision was announced last week. Created by Switch Design Consultancy, the campaign adopts an open door theme, aiming to reflect the company's values of great customer service, top-quality products and getting the job done.
Gareth Jones, managing director of Solar Calibre Doors, said: "We are absolutely delighted to win this award. Personally, I have always been a great supporter of the Fit Show, in my time at both Rehau and Profine, so I was pleased to bring Solar Calibre to the show and particularly delighted to have won this award in our debut year."
The 'Always Open' campaign uses a play on words; its strapline aims to present Solar Calibre an approachable, highly experienced bunch of people that is always open to meeting new customers and discussing wider product requirements and business objectives. Part of the campaign featured Solar Calibre's Craftsman Heartwood stable door, in the colours of the Ukrainian flag. The unique door was exhibited on the business' Fit Show stand in May. Based on the number of visitors that Solar Calibre welcomed to its stand at the show, the business made a donation to Unicef's Ukraine Emergency Appeal.
"This has come at a great time," continued Gareth. "Solar Calibre Doors was also recently nominated as a finalist for Composite Door Manufacturer of the Year by the National Fenestration Awards 2022, which is another tremendous accolade, so we're very happy about that too.
"We are firing on all cylinders. Output within our 143,000ft² production facility in Huthwaite has almost doubled since the Fit Show. We've been able to take on work in both the trade and local authority sectors.
"There is space in the composite door market for manufacturers that can deliver on quality, communicate with customers and give a great service. This is what the 'Always Open' campaign was designed to reflect, echoing and communicating the core principles that have been central to the growth of the company.
"Although May and the Fit Show already feels like quite a while ago, the team still talks fondly about it. We're considering returning for 2023."
The success of Solar Calibre doesn't stop there. Strata, a key customer of its sister company, Solar Norvik – which is also part of Solar Fabrication Holdings – has recognised the business as one of its top contractors.
Taylor Manufacturing – which is also part of the Solar group, and is a supply partner for Solar Norvik, Profine and Kömmerling – has reported that it is busy manufacturing its vertical sliding window and patio doors, as part of its fabricated products offering. The business' representatives also reported growing interest in WarmCore, its energy-efficient aluminium/PVC hybrid window and door system, attributing this interest to the recent Part L regulation changes.