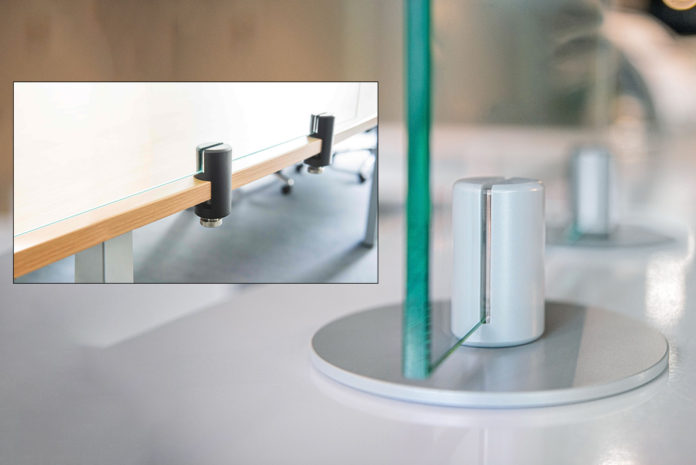 Modelling by Bohle suggests that COVID-19 cough and sneeze-guard screens plus Covid-related office re-fits, represent a multi-million-pound new market for the glass processing sector.
According to analysts, UK companies will need to cut staff numbers returning to offices by 30-50% as well restructuring space to meet social distancing guidelines and to minimise risk.
This, according to Bohle, which launched its new clamped and freestanding desktop sneeze and cough guard, Vetroscreen, last month, has created significant new demand for processed glass, creating a multi-million-pound new market.
Dave Broxton, managing director at Bohle, said: "Everyone in office fit-out has been holding their breath to see if companies will go back to an office environment or stick with home working. What's now clear is that we're moving towards a hybrid solution.
"That is creating massive demand from the office market for glass, partitioning and new products developed to support Covid-19 working including Vetroscreen.
"We have customers already quoting on quarter-of-a-million-pound contracts – that's on a single project. You don't have to supply product into many more to get a feeling for just how big this market is."
Available either as a clamped or free-standing option, VetroScreen has been developed by the glass consumables and hardware specialist as a solution to screen adjacent desks in open-plan offices.
Able to accommodate glass thicknesses of 4mm to 10mm it's been designed to be fitted in minutes, sliding over the edges of a desk or table and tightened. This creates a secure fix without drilling for screens typically up to 1,000mm high dependent on risk assessment.
A weighted desktop version manufactured in powder coated aluminium and steel, also provides a solid foundation for glass screens typically of up to 800mm high dependent on application.
Dave continues: "Average office density is at 9.6m2 per person. To maintain social distancing at 2m, you need around 14m2, even then space is tight.
"Even if companies only bring back 70 or 50% of their workforce back into their office space each day with the rest working from home or rotating through, they are going to need to restructure space to minimise risk," Dave continued.
"They have to. Average leases on commercial property in the UK are for 6.3 years. That space has to be used – plus the value of single-location working despite increased use of remote working platforms is increasingly being recognised by companies and their employees.
"That's absolutely born out in the demand that we, and our customers are seeing for Vetroscreen."