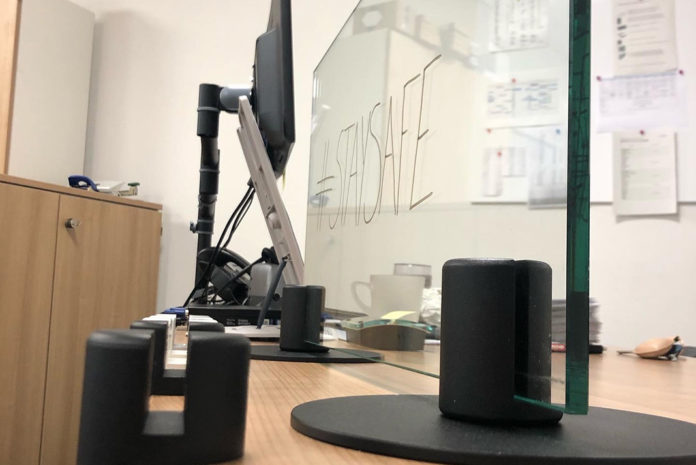 Bohle has launched a COVID-19 cough and sneeze-guard desk mounted office screen system.
Available either as a clamped or free-standing option, VetroScreen has been developed by the glass consumables and hardware specialist as a solution to screen adjacent desks in open-plan offices.
Able to accommodate glass thicknesses of 4mm to 10mm and to a maximum height of 1,000 mm, Bohle says that the system, 'maximises glass pull-through'.
A weighted desktop version manufactured in high quality powder coated aluminium and steel is said to provide a solid foundation for glass screens of up to 800mm high.
An alternative clamped system simply slides over the edges of a desk or table and can be tightened with a knurled screw, providing a 'secure, safe and unobtrusive fix' for screens of up to 1,000mm high. There is said to be no requirement to screw into the desk preventing permanent damage.
Dave Broxton, managing director at Bohle, said: "The clamp system offers a particularly high degree of flexibility, able to form a safe screen between desks facing each other and to the sides, protecting workers while still allowing them to see and communicate with each other as they would in a 'normal' office environment. The length of the screen is typically 1,000mm but can be easily extended simply by adding additional clamps.
"Supplied at a highly accessible price point, they form a very simple yet highly innovative solution for creating a safer working environment at a time when protection of workers remains key."
In addition to VetroScreen, Bohle has also developed 'how to' guides to show how its pre-existing hardware offer can be used to make a sneeze-guard.
This includes its right-angled fixings, BO5218435 in chrome and BO5218435B black and accompanying fixings and cover plates.
These can be designed to accommodate glass thickness of between 8-10mm and weights of up to 40kg and maximum widths and heights of 1,200mm X 800mm.
"Standard fixings can be applied to the delivery of a highly flexible and more permanent solution but not everyone is going to want to drill into their desks," said Dave.
"VetroScreen provides a less disruptive and easier to fit solution, requiring fewer processes on site, while delivering the same level of protection as permanently fixed solutions."