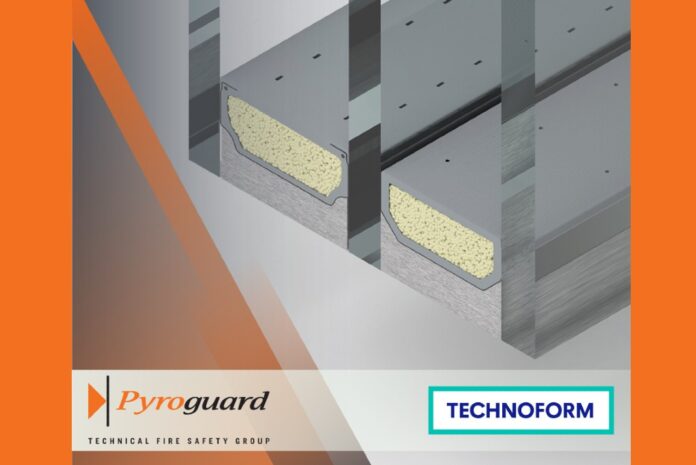 Pyroguard's fire-rated insulated glass units (IGUs) can now include high-performance warm edge spacers, thanks to a collaboration between the glass provider and profile manufacturer Technoform UK. The solution was developed and qualified after several full-scale fire tests at Warringtonfire (UK) and Efectis (France), and it complies with BS EN 1364.
The move is an acknowledgement of increased attention on energy efficiency and sustainability, according to Pyroguard's representative. Pyroguard is part of the Technical Fire Safety Group.
Available for use in a range of Pyroguard's fire-rated insulated glass units (IGUs), the development aims to enable architects, contractors, façade engineers and fabricators to achieve greater thermal properties and improved unit performance under test conditions.
Unlike other warm edge spacer technologies, the Technoform SP14 spacer has a hybrid construction of precision engineered polypropylene and steel. The SP14 delivers improved thermal properties while the inclusion of steel coextruded into the spacer structure offers structural stability and durability in fire situations, the businesses' representatives have said.
"Sustainability and energy efficiency is becoming an increasingly critical factor for architects and specifiers," explained Andy Lake, Pyroguard's sales director for the UK and Ireland. "Across the glazing industry, we are seeing warm edge spacers being specified with increasing frequency, helping to reduce the thermal bridging of the system.
"Our partnership with Technoform and our extensive testing programme has enabled us to now bring this improved thermal performance to the fire safety glass sector, combining safety with sustainability. We're very proud to be the first fire safety glass manufacturer to offer this performance upgrade as standard in the market."
Richard John, Technoform's product and market manager, added: "Specifiers and building owners are constantly looking to improve thermal performance and reduce carbon footprints. Added to this, limited combustibility design is vitally important. Our partnership with Pyroguard now enables us to deliver performance on all these fronts."
CE- and UKCA-approved, the new warm edge spacers are compatible with many of Pyroguard's products. Available in widths from 12 to 22mm, the spacers are also manufactured in a range of colours, including black, which is ideal for blending seamlessly with the sealants used in typical IGUs. For more information about the two businesses, visit pyroguard.eu or technoform.com.