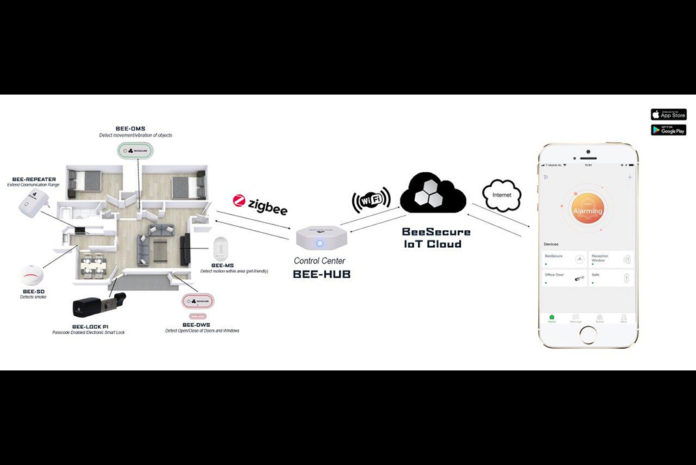 Kenrick has signed an exclusive deal to become the UK distributor of BeeSecure – an app-based smart home security solution, which is designed to allow homeowners to monitor their home from anywhere with their smartphone.
Kenrick says that the move follows many months of research to find what it believes is the best smart home security product for the market.
Said to be reliable and easy to use, BeeSecure enables users to detect movements within their home, remotely. The system features a central hub, called the Bee-Hub, which links a series of devices inside the home to an app on the user's phone. If a sensor on one of the devices is activated, the homeowner is alerted with a notification on their phone.
Devices in the BeeSecure range include a motion sensor, an object movement sensor, a camera, a smoke detector, a doorbell, and a window and door sensor. The window and door sensor is said to be lightweight and compact and it detects if windows or doors have been opened. It also allows homeowners to check remotely if all their windows and doors have been properly closed. According to Kenrick, the sensor unit can be fitted by fabricators onto new windows and doors and can also be retro-fitted onto any existing doors and windows around the home.
Steve Williams, Kenrick's sales and marketing director, says: "Today's consumers embrace modern technology and smart home security has the potential to transform the way we live – making properties more secure and home entry easier and more convenient.
"BeeSecure is a brilliant early warning system for homeowners, whether they are at home or not. It can let them know if anyone is outside or inside their home, if any windows or doors are being tampered with and even if smoke is detected inside their property. Ultimately, it makes their home and safer and more secure place and gives them greater peace of mind.
"We're proud to be at the forefront of the industry by bringing a security innovation that delivers what modern homeowners want, whilst also helping forward-thinking fabricators and installers to enter the 'smart' market."