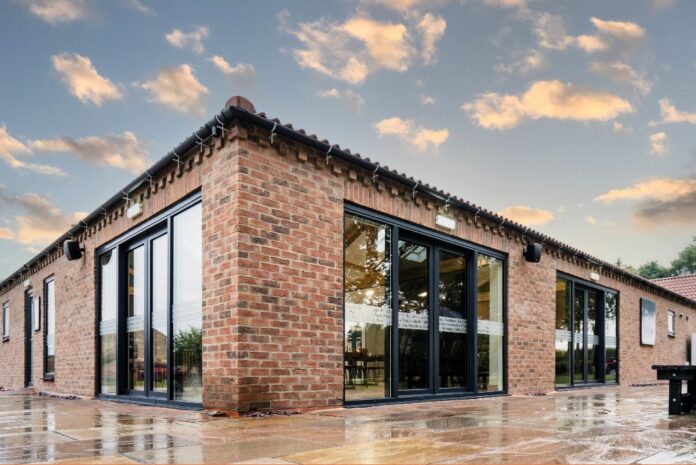 Total Window Services, Hull, installed products that included a range of hardware solutions supplied by Carl F Groupco for a holiday park development in Yorkshire. The project saw the trade, retail and commercial fabricator supplying new windows and doors for High Farm Holiday Park's reception, convenience store and restaurant buildings.
The windows and doors in the reception and convenience store were straightforward but, with four large door apertures, the newly constructed on-site restaurant needed a different solution. Jonathan Neale, general manager for Total Window Services, explained: "Our customer required a solution that was easy to use and offered exceptional security. They thought bi-fold doors would be the answer but when they saw the Smart-Slide patio door from Aluplast, which utilises the Roto Inowa Sliding Door Hardware System, they changed their minds."
He continued: "The innovative Smart-Slide doors were designed to accommodate wide door apertures so could easily accommodate the 3.5-metre-wide openings on this project. The Roto Inowa sliding door hardware system meant the doors would be straightforward to operate, something that was particularly important as many of the client's guests are elderly. Security and functionality are also excellent and, overall, the Smart-Slide doors have more than delivered on this high-end project."
The Roto Inowa sliding door hardware system was supplied by hardware distributor Carl F Groupco, which added the system to its stocked range in 2020. Total Window Services has worked exclusively with Carl F Groupco for hardware requirements since January 2021. During that time, the businesses have developed a mutually strong relationship, their representatives report.
Carl F Groupco is a major stockist of Roto hardware. Julie Warner, Carl F Groupco's Roto product manager, said: "The Roto Patio Inowa range is a prevalent choice for new-build installations like this one. It meets the stringent requirements of the BS EN 13126-17 rain and air impermeability tests and can achieve PAS 24 compliance with its secure locking points in the mullion, V-locking cams and its lockable handle with drilling protection."
Jonathan concluded: "The customer is delighted with the finished results and they've had great feedback from their guests too. They appreciate how smoothly the doors run and are pleased with the weatherproofing provided by the unique closing mechanism."