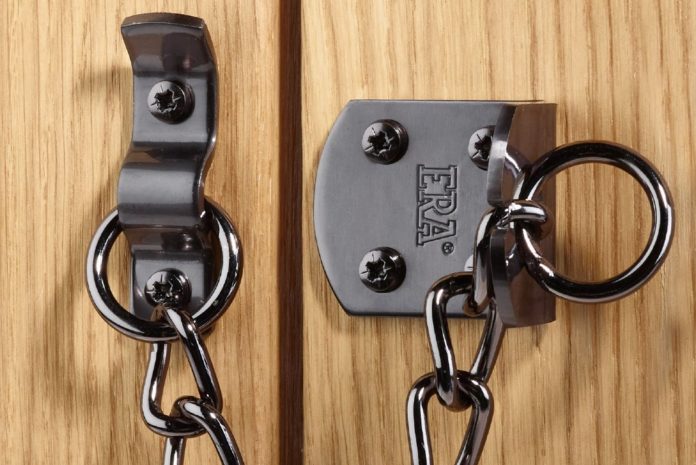 Three products by the home security and fenestration component provider, ERA, have been approved by Secured by Design: ERA's two TS 003 door security devices, together with its Double Cam window lock. This latest achievement brings ERA's Secured by Design product total to more than 55. These products include ERA's lock, hardware and mail delivery solutions. Secured by Design is the police-preferred specification scheme.
The accreditations demonstrate ERA's ongoing commitment to delivering high-quality security solutions that provide maximum protection, its representative said. The 'heavy duty' TS 003 door chain and door restrictor are both designed to limit the initial opening of an external door, to provide homeowners with additional security. Having undergone rigorous testing to conform to TS 003:2012 and BS EN 1670:2007, the products protect the integrity of the door in distraction burglary situations, where extreme and repeated force may be applied.
Launched earlier this year, ERA's Double Cam window lock offers an advanced locking mechanism that claims to simplify fabrication and installation. Exceeding PAS 24 requirements, the lock features up to three sets of unidirectional double locking cams, securing the sash tightly to the frame, to deliver protection and strength across the window.
Kerry Blackford, ERA's head of product, said: "ERA has long been a committed supporter of Secured by Design. We recently renewed our partnership with the initiative for a ninth consecutive year. The accreditation of our TS 003 door security devices and Double Cam window lock means ERA now has an impressive schedule of more than 55 products that meet this respected and demanding standard. Once again, this demonstrates our continued commitment to meeting the most challenging performance benchmarks."
As the official police security initiative owned by the UK Police Service, Secured by Design aims to reduce crime and help people live more safely, by improving the physical security of buildings and working with manufacturers including ERA. For more information about ERA's portfolio of security products, visit eraeverywhere.com, or contact the sales team on 01922 490 000 or info@eraeverywhere.com.