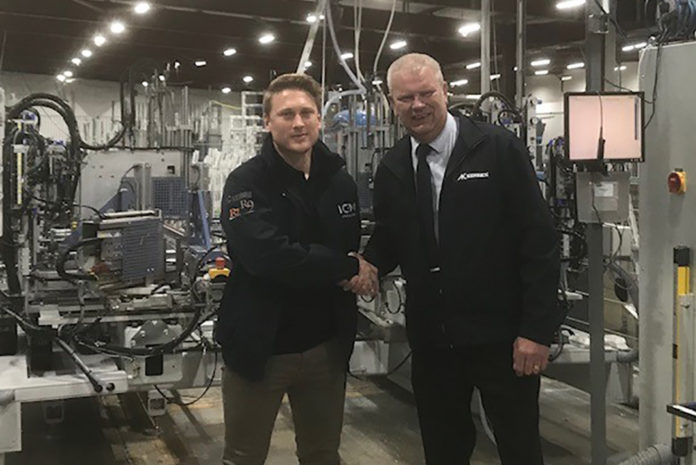 A leading trade fabricator has reportedly boosted production and is on target to increase turnover by 15% this year with the help of its hardware supplier, Kenrick.
Having invested in a new 40,000ft2 factory in 2017 to expand production of its range of PVC-U and aluminium windows, Essex-based Iceni Windows is said to have wanted to source a new shootbolt that was quicker and easier to fit. As well as helping Iceni Windows to speed up production rates, it was also important that the new system could be adapted to suit the Rehau, AluK and Residence 9 profiles that Iceni uses.
After reviewing a number of solutions, the firm chose the Centurion Fast Fit shootbolt window locking system from Kenrick and has increased production to 700 frames a week since switching.
Paul Foyle, managing director at Iceni Windows, said: "We had been working with our previous supplier for some years and were happy with the product, but we wanted to find a shootbolt that would speed up the fitting time for our fabricators even further. We liked the design of Kenrick's Centurion Fast Fit shootbolt and were impressed with how Kenrick tailored the keeps so that we could use it across all of our windows. This means that we don't have to order and stock a variety of shootbolts, which is a huge benefit to us.
"Adding more factory space and switching to Kenrick has helped us to ramp up production and we're well on course to increase turnover by 15% this year, which is a terrific achievement."
Steve Williams, Kenrick's sales and marketing director, added: "We're delighted to be working with one of the industry's fastest-growing fabricators and to have supported this impressive growth with a product that's designed to maximise productivity. We're pleased to have delivered just what they want with a flexible and cost-effective locking system that's guaranteed to perform."
Centurion Fast Fit is a 'non crop' system that's said to be 'simple and rapid' to install. It features steel shootbolts and up to eight locking points to provide the highest levels of security.
Iceni has recently strengthened its link with Kenrick and is now also using the high security Excalibur door lock on all of its doors. The Excalibur door lock features three sintered steel hook bolts, which are supported by two steel anti lift pins for added security and three roller cams to provide compression and very smooth operation. The lock is fully extendable to give the fabricator maximum flexibility. In addition, the gearbox is sprung on both spindles, which eliminates the need to buy more costly sprung handle sets. A one piece keep is available as are individual hook roller and centre hook latch and roller keeps.