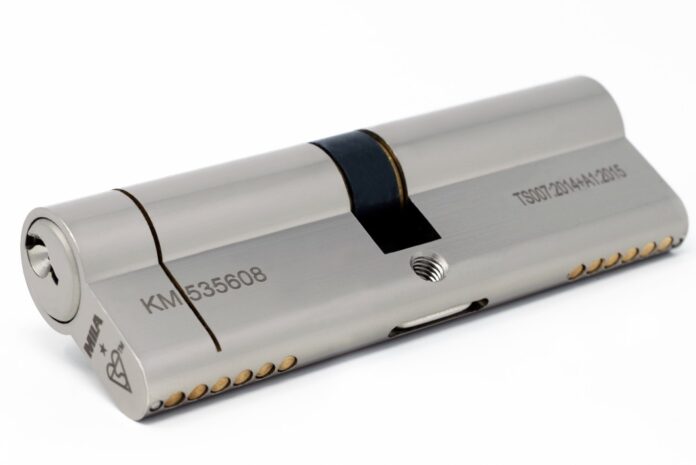 Hardware supplier Mila now has a full line up of security cylinders available from stock – thanks to the addition of a new anti-bump one-star BSI Kitemarked cylinder to its range. Customers have an even wider choice of options and more opportunities to differentiate their door offering, all with the comforting reassurance of next-day delivery, if required.
Mila customers can choose from three levels of cylinder security, depending on the application and price point. At the top of the range, there is the Mila ProSecure 3* anti-snap cylinder, which meets the Master Locksmiths Association's coveted Sold Secure Diamond Standard. In the middle is the new, enhanced security ProSecure 1* cylinder, with anti-bump technology. And, at entry level, there is Mila's ProLinea BreakSafe cylinder, complete with a sacrificial cut line and six-pin security protection. All are available from stock.
The new Mila ProSecure 1* TS007 enhanced security cylinder is accredited to PAS24, TS007 and Secured by Design. It is designed to pair with Mila's popular 2* ProSecure security handle, providing a simple and cost-effective way of demonstrating maximum 3* TS007 compliance.
Available in brushed nickel or brushed brass finish, it features six anti-manipulation pins to prevent cylinder picking, drilling and bumping. A sacrificial snap line is also included, which detaches the external section if it is tampered with, leaving the cylinder body protected and secure.
Richard Gyde, Mila's managing director, explained: "There was a time when cylinders were largely seen as commodity products, with price the driving factor in product selection. Since the advent of cylinder snapping and bumping, and the tightening of the PAS24 test in 2016 though, the market has changed, and, in both the retail and commercial market, buyers are scrutinising and prioritising security more than ever before.
"For Mila customers, a key element in being able to respond to those buyers is demonstrating the fact that our TS007-accredited products are all Kitemarked. That means they haven't just passed the test once with a sample product, but they continue to be tested and audited regularly via a 3rd party." For more detail about the Mila cylinder range, visit mila.co.uk.