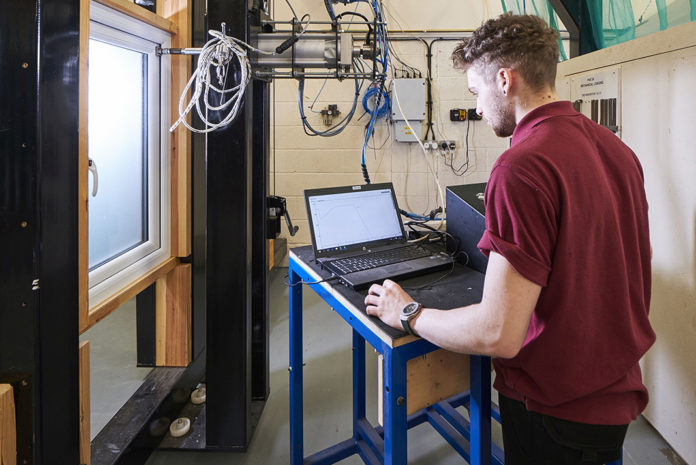 Titon has extended its Haverhill-based 'Area 24' hardware development and testing laboratory with a range of new test rigs.
According to Titon, Area 24 has the capacity to test a number of different performance criteria from weathering to cycle load analysis, through to full security testing for PAS24 – recognised throughout the industry as the minimum standard complying with Approved Document Q (Security) of the Building Regulations.
The latest equipment added to Area 24 includes a new double entry cylinder and extended restrictor cycle rigs, as well as window handle and restrictor load rigs. These are complemented with new TS008 testing devices, a salt spray machine, Light Reflective Value (LRV) apparatus and a 3D printer. The facility is already equipped with single entry cylinder, restrictor, door handle and window handle cycle rigs, alongside three PLC driven window/door rigs, TS007 test platform, digital PAS24 mechanical load test rig, 3D CAD system, plus air and water testing.
Besides PAS24, Titon says that its Area 24 laboratory is also capable of testing hardware products to a number of industry recognised standards, including elements of:
• BS EN ISO 1670:2007 (Building hardware – corrosion resistance)
• BS EN 1303:2015 (Building hardware – cylinders for locks)
• BS 6375-1:2015+A1:2016 (Performance of windows and doors – weather tightness)
• BS 6375-2:2009 (Performance of windows and doors – operation and strength characteristics)
• BS EN 1906: 2012 (Building hardware – lever furniture and knob furniture)
• BS 8300: 2009 + A1:2010 (Design of buildings and their approaches to meet the needs of disabled people – i.e. LRV reading)
• BS EN 13724: 2013 (Postal services – apertures of private letter boxes and letter plates)
• TS007: 2014 + A1:2015 (Enhanced security for replacement door cylinders and security hardware)
• TS008: 2015 (Enhanced security and general requirements for letter plate assemblies and slide through boxes)
Titon also offers general in-house endurance, cycle and strength testing, new product development and feasibility studies, which can include testing to destruction.
Tyson Anderson, sales and marketing director at Titon, said: "Area 24 has grown significantly over the last couple of years, meaning it provides an essential service for customer liaison and testing – activities separate from our day-to-day development of new hardware products. We've also had existing and prospective customers making full use of the facilities to identify the suitability of products for PVC-U, aluminium or timber within the Titon range. The accuracy of indicative testing provides them with peace of mind that PAS24 can be achieved at certified facilities without any expensive failures occurring."