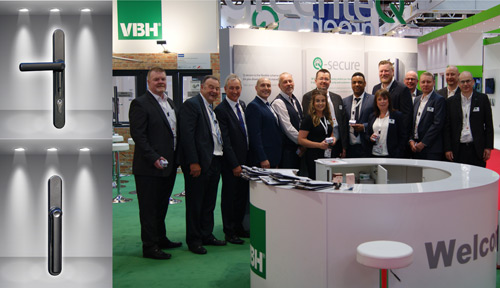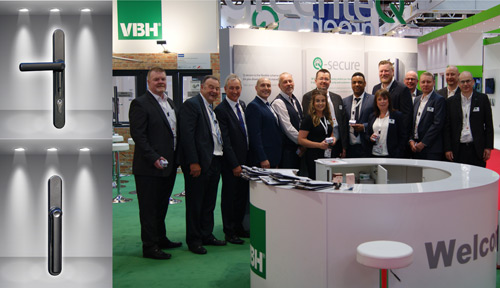 Hardware specialist VBH reports that its third visit to the FIT Show was the 'best yet' in terms of product launches, visitor numbers and leads.
The company focused almost entirely on products from its expanding GreenteQ range, which was reflected in the design and branding of the stand.
PAS24 versions of Clearspan aluminium bi-fold door hardware and the Invisifold slide & fold system reportedly received 'much attention', as did the outward opening casement and tilt & turn window versions of Invisifold.
VBH's new Q-secure multi-brand guarantee was also unveiled, with many fabricators reportedly signing up to the scheme during the show. Q-secure guarantees against forced entry for 10 years after installation, and is reportedly the only scheme on the market which covers 'all the relevant hardware on a door or window, from a variety of brands'.
According to VBH, the patented GreenteQ SecuriFold door handle for multipoint lock applications was the surprise 'star of the show'. SecuriFold handles are designed to fold flat in the vertical position when not in use, popping up into the 'normal' 90° position only when the door is being operated.
The handle stands off the profile by only 23mm when folded, so is ideal for use on bi-fold and slide & fold doors, as it allows the sashes to stack closer together than a conventional handle.
VBH advises that the feedback received at FIT suggests that SecuriFold, and the new CentreFold intermediate handle, which is even slimmer at just 16mm stand-off, look set to be 'hugely popular'.
Peter Rowlands, MD of VBH (GB) said: "The FIT show exceeded our expectations in many ways; in particular the number and quality of visitors, and the level of genuine interest in our products and services. Overall we felt the show was a big success for the industry and we are proud to have been part of it. As a mark of our confidence in the future and new products in our pipeline, we're going bigger in 2019 and have reserved a stand 75% larger than this year's."