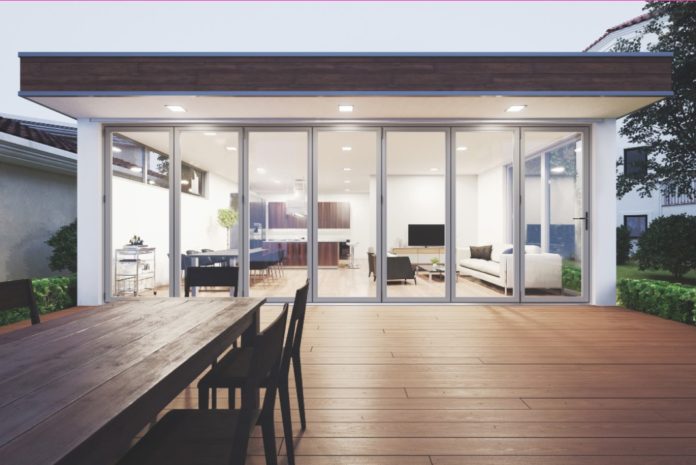 Hardware specialist VBH has been working with aluminium systems house Garnalex to develop the hardware solution for Garnalex's new Sheerline bi-fold door. The new bi-fold allows up to a seven-pane configuration, the choice of fitting it as an outward or inward opening door, and offers four different threshold combinations.
With doors measuring up to 6.5m wide x 2.6m high, and possibly triple glazed, Garnalex's choice of hardware had to be sufficiently strong and hard wearing to cope with large, heavy sashes. VBH's Greenteq design team worked closely with counterparts at Garnalex, resulting in the Greenteq Clearspan hardware system for Sheerline, with a weight capacity of 120Kg per sash.
Greenteq's bi-fold hardware for other systems is tried and tested, says VBH, and is favoured by fabricators and installers. Clearspan for Sheerline is designed with everyone in the supply chain in mind, the hardware specialist claims. It is quick and easy to put together, and there is ample adjustment for installers.
Clearspan is available in a standard version and in a PAS24:2016-tested security spec', that features the Greenteq Orion TS007 three-star profile cylinder. Being a three-star cylinder, this enables the fabricator to fit either the Greenteq Alpha Slim lever handle set, or the standard Alpha lever handle, which is available in 10 colours of the Greenteq suite of matching window door and patio furniture. As the suite covers patio doors, it enables installers to tie together a full-house installation, giving them an edge over their competition.
Companies offering Sheerline doors built to VBH's PAS24 hardware spec' can join the Q-secure approved partner network. The Q-secure consumer security guarantee will pay the end user up to £8,000 in compensation, in the unlikely event that a break in is achieved due to hardware failure.
Simon Monks, VBH's managing director, said: "I'm personally delighted to be working with Garnalex, and am very pleased at the way that the two technical teams have worked together as one to bring this project to fruition; it's been seamless."
To find out more about VBH's range of hardware visit vbhgb.com, call 01634 263 263 or email info@vbhgb.com. For further information on the Sheerline rangem call Garnalex on 01332 978 000, email info@sheerline.com or visit sheerline.com.