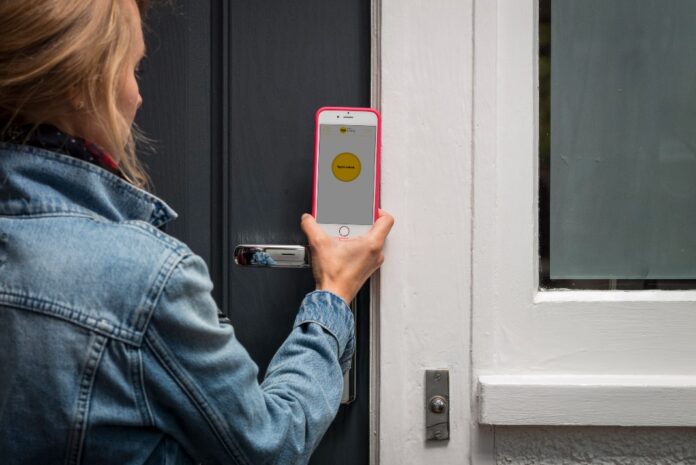 Yale has become one of the first companies to achieve the Secured by Design (SBD) Secure Connected Device accreditation for its Conexis L1 smart lock. The accreditation guarantees a high level of security for internet-connected products. It also meets traditional physical security standards, providing users with a label of trust.
To achieve the accreditation, Yale's smart alarm systems underwent rigorous testing. The Conexis L1 smart lock allows users to check in from anywhere in the world and receive real-time notifications in the event the door is unlocked unexpectedly. Tailored to suit individual needs, access can be gained through a variety of ways: via a key tag, key card, phone tag or a smartphone when using the Yale App.
Users can send virtual keys so that friends and family members can gain access to a home, even when the user is not around. Once they have gained access, users can manage who can enters the property by disabling or deleting users through the Conexis L1 App. Virtual keys can be scheduled or made permanent.
The Conexis L1 smart door lock uses encrypted Bluetooth technology and features a tamper alarm, so will sound an alarm when someone tries to gain access, offering an additional deterrent. The Conexis L1 digital door lock also works with voice assistants including Google Assistant and Amazon Alexa.
Michelle Kradolfer, SBD's IoT technical officer, said: "There has been an exponential rise in IoT and smart devices being used within the average UK household, but most are not produced without giving security much thought and leaving consumers vulnerable to cyber attacks. Therefore, companies with IoT products need to ensure they are developed as secure as possible and tested against the appropriate standards and certifications.
"I am so delighted that Yale have become one of the first companies to achieve the Secure Connected Device accreditation, clearly demonstrating that the Conexis L1 smart door lock has achieved the appropriate IoT standards and certifications, building confidence and trust in their product. We hope other companies will take note of this achievement and follow in Yale's footsteps in developing IoT products safely for the UK market".
Kevin Spencer, Yale UK's head of product management, said: "With more homes starting to invest in smart home technology and creating smart ecosystems, it's essential our smart security products not only provide convenience but also the highest level of security for our customers. We're delighted the Yale Conexis L1 smart lock is one of the first products to achieve the Secured by Design 'Secure Connected Device' accreditation. At Yale it's extremely important to us to provide consumers with security products which meet standards set through a reputable, trusted independent initiative, such as Secured by Design."