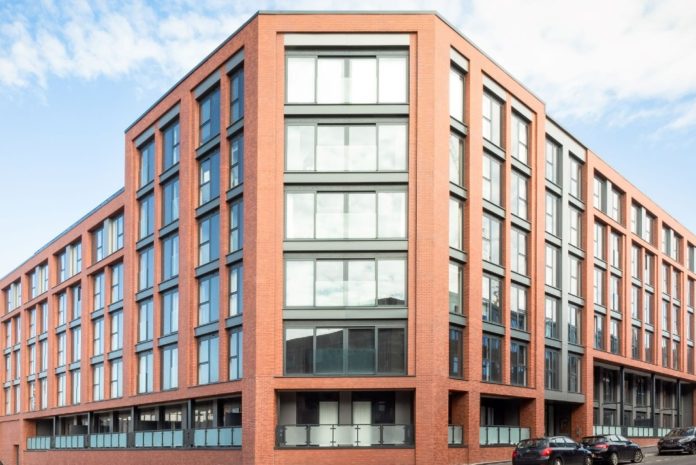 Alutech's aluminium window and door systems were used to complete the Forge – a new-build apartment complex in Digbeth, Birmingham. Fabricated by one of Alutech's longest standing commercial fabricators, Tech Aluminium Systems, the steel frame building features Alutech's SL160 systems for lift and slide doors, as well as Alutech's W72 and W62 window systems.
The project was self managed by the development company, which claims that what really sets the project apart is the way in which specialist trades were asked to design their own interfaces with the structure of the building and liaise with each other to devise workable solutions. One of the elements incorporated by Tech Aluminium Systems, with Alutech, was a window seal, used to keep rain out while other construction work was being carried out.
Keith Douglas, Tech Aluminium Systems; director, said: "Conventionally, where brick-built new builds are concerned, the installation of windows and doors is reliant on the construction of the openings, which can often be delayed. But in this instance, the steelwork of the building went up quickly and the window apertures were created, meaning quick progression of the project."
He continued: "We worked collaboratively with Alutech, in the UK and Belarus, to devise a solution for the project that worked well with the other elements of the building. The result is an impressive-looking project that all parties were very happy with."
Alutech's SL160 aluminium lift and slide door system was chosen for the project, combining 'state-of-the-art performance' sliding hardware with great aesthetics. The 72mm and 62mm casement window systems have a single chamber thermal break with bonded foamed insert, designed to be easy to fabricate and install. The prodyct is able to meet challenging requirements for thermal and acoustic performances.
For all commercial project enquiries, email james@alutechsystems.co.uk. To become an Alutech Systems approved fabricator, call 01924 350 110 or email naomi@alutechsystems.co.uk. For further detail about Alutech, visit www.alutechsystems.co.uk or follow the business on social media:@AlutechL (Twitter), Alutech Systems (Facebook) or Alutech Systems Ltd (LinkedIn).