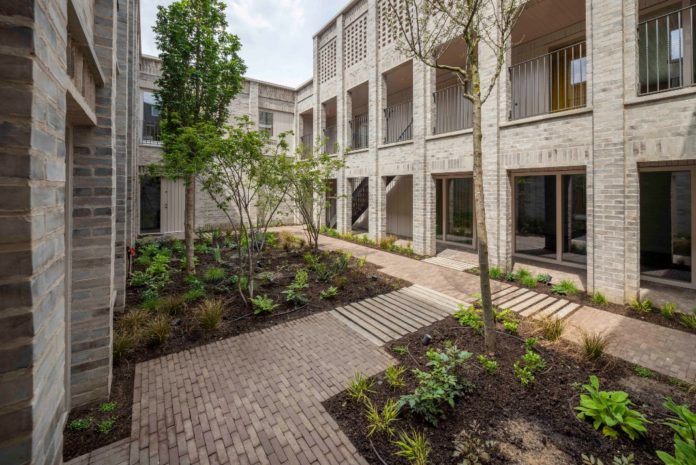 Marston Properties, one of London's longest surviving family-owned property businesses, has completed and let all nine flats in its latest housing development at Crosland Place, Clapham. The development took five years to complete, from the purchasing of the site to handing over keys to the new occupiers.
Caroline Marston, chair of Marston Properties, said: "Standing in the green, peaceful and incredibly calming courtyard of the new building at Crosland Place in Clapham, it is difficult to recall some of the huge obstacles we have had to overcome. It has taken us five years of non-stop effort and resource to get to the stage of handing over these new rental homes to their new occupants, but it has definitely been worth the long journey to create these well-designed and built homes."
The site, which used to house a former light industrial building accessed via a narrow mews, was purchased from the Besom Foundation by Marston Properties in March 2016. Pre-application advice was sought from Wandsworth planners and neighbourhood consultations took place before a planning application was submitted in late 2017, which, despite planning officer support, was refused.
Planning permission was granted in July 2018, for a scheme which was largely unchanged from the first application. Designed by London-based firm Sergison Bates Architects the clever 'inward looking' scheme addressed the privacy fears of adjoining owners and offers light, space and character to each new home.
The main contractor, Uprise, was appointed in the summer of 2019. Work commenced in October 2019, continued throughout the pandemic restrictions, and was finished in April 2021.
The new-build courtyard scheme has nine apartments, six of which have two bedrooms and two bathrooms and their own internal courtyards and terraces. The one-bedroom flat has a sleeping space large enough for a super king size bed, and looks on to its own private courtyard, while the three-bedroom flat has an inner courtyard and first-floor terrace. All the apartments have plenty of storage, large fitted wardrobes, separate cycle storage and nestle around a green and shady communal courtyard.
The keys were handed to the letting agent in the middle of May 2021. Within five days, all apartments had lets agreed. The first occupants moved in a week later, and by the end of June, all the flats were occupied.
Previously, there were no trees on the site. But Marston Properties planted three, 4m-tall trees and three 2m, multi-stem trees in the courtyard, as well as one mature tree in the mews, A tree has already been planted in the nursery playground, to replace one they had asked to be removed.
Attention is now focused just up the road, on a 'placemaking' project, where Marston Properties invited neighbours of the buildings to tell them what they wanted from the development. The site is adjacent to the Marston-owned Plough Brewery, Wandsworth Road, and the two schemes which will be completed this year. It will include 11 flats to rent, studios, a café and a pub. Marston Properties has been building and developing in south west London for over 125 years, and will retain the Crosland Place building in its residential portfolio.