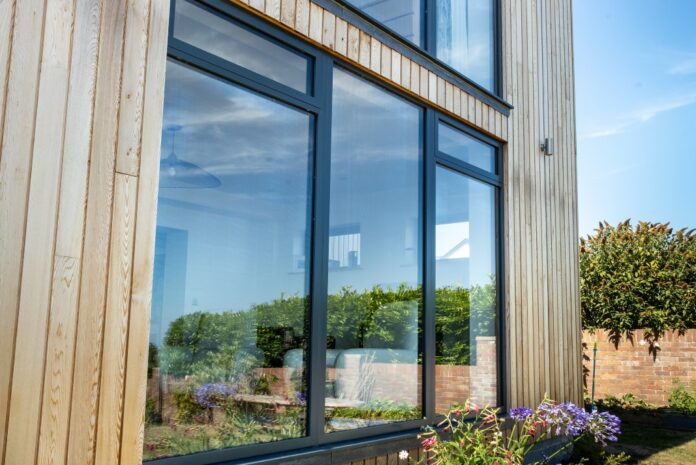 GD Windows has installed Stellar, a retail aluminium system from Epwin Window Systems, in a cedar-clad domestic extension in Aberporth, west Wales. The property is on a coastal hilltop so the glazing solution needed to make the most of the views as well as be able to withstand harsh weather conditions, business representatives have said.
The company manufactured and installed six Stellar aluminium windows and one Stellar door with side screens in the extension to the property. This included two 3755mm-wide, large-scale Stellar casement windows on the front elevation. All the windows and doors were flush on the internal and external faces to create the sophisticated high-end aesthetics required for the project, according to leaders of the business.
Gwyn Davies, director at GD Windows, said: "We began manufacturing Stellar aluminium in September 2021 and it has all the high-end credentials this project demanded. The homeowners were delighted with the superb flush aesthetics and performance standards of the products.
"You cannot underestimate just how quick and easy Stellar is to fit. Even the homeowners commented on how quickly everything was installed. The pre-gasketed, knock-in beads make fitting very straightforward and leave the neatest finish we have seen on aluminium products. You cannot underplay the importance of this difference – there is nothing else like it on the market.
"We completed the installation before the storms that hit Wales in February, so the products were tested to the max. The homeowners got in touch to say they were thrilled by the strength and security of the products in the worst of weathers."
Stellar's creators aim for it to offer an unbeatable combination for fabricators and installers looking to secure lucrative, high-end projects. Discover more online at stellaraluminium.co.uk.