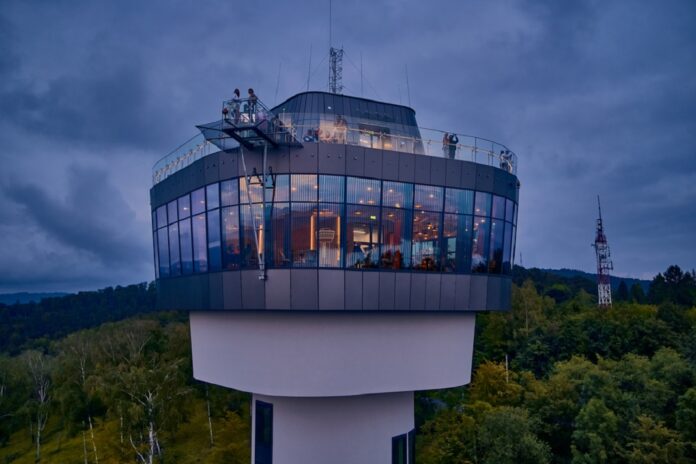 The PKL Group and PFR Group specified Pilkington AviSafe glass for a new observation tower and gondola lift in Poland's Bieszczady Mountains. The area is home to 130 species of birds while also being located on a main migratory route. Protecting Solina's bird population was therefore a top priority.
Pilkington AviSafe is designed to protect birds. Its unique, patterned UV-enhanced coating disrupts glass reflections, helping birds to see a clear barrier, Pilkington representatives have said. The glass was manufactured at Pilkington's Merseyside manufacturing site in St Helens.
Jason Eggerton, Pilkington UK's specifications manager, said: "The gondola station and observation tower are surrounded by forests, making bird collisions due to reflections of the trees a particular risk. Pilkington AviSafe disrupts these reflections, making the glass more visible."
The coating is marketed on the principle that birds see in a different light range to people, making Pilkington AviSafe glass more visible to birds while remaining aesthetically appealing on the exterior surface. The specialist glass product was used in the large, modern glass façades of the gondola station, in combination with Pilkington Suncool 70/35 and Pilkington Optilam glass. These products ensure effective thermal insulation, solar control and safety, business leaders have said.
Jason added: "Making buildings truly sustainable goes beyond emissions and energy efficiency. Architects and specifiers increasingly need to consider how their projects impact local wildlife too. Pilkington AviSafe has clear value amidst nature reserves, forests and mountains in Solina.
"But many of the world's major cities are located on bird migratory paths, where tall, glazed buildings can increase the chance of collisions. We're proud to support a project of such high prestige and economic significance in Poland, and to play our part helping Solina's tourism industry to maintain its minimal impact on nature and local wildlife."