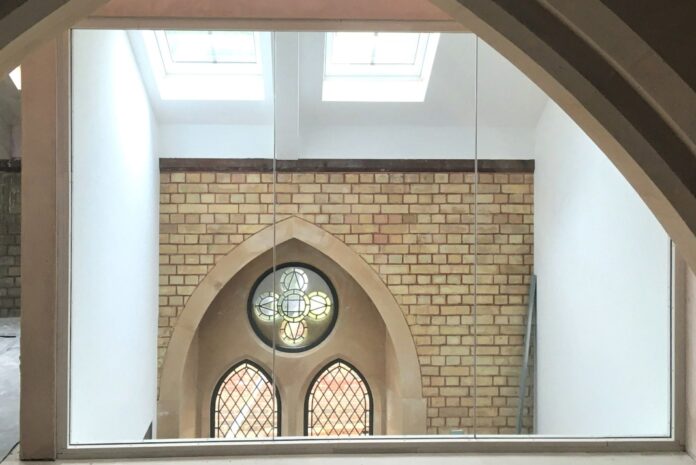 Promat has supplied assured fire-resistant glazing solutions for a multi-million-pound redevelopment project to convert a Victorian church into six luxury apartments. The scheme to convert the Christ Church in Teddington, Middlesex, by Renaissance Design and Build, has secured the future of the 150-year-old building after it had fallen into disrepair.
The building's local significance and historic features meant that conversion proposals had to be approached sympathetically, with a high standard of craftsmanship. The developer, in conjunction with the architects Robert Davies John West, saw the opportunity to create high-specification new homes within the existing structure.
The extensive conversion project involved completely modernising the building, retaining many original features whilst redesigning the internal space to incorporate the six dwellings. This included installing a spiral staircase, roof garden and extending the original tower to provide a lift to the third floor.
One of the key challenges for the architects was to ensure the building could be redeveloped in a way that ensured compliance with current building regulations, including Approved Document B in relation to fire safety. The passive fire protection strategy meant introducing compartmentation into what was originally a large open space used by the congregation in a way that provided the best technical and aesthetic solution.
Two versions of Promat's Systemglas range of fire resistant glazing systems were specified to provide a dependable level of fire protection to both property occupiers and the building itself, both of which were installed by long-standing Promat Systemglas-approved installer, Folkestone-based Rated Solutions. Systemglas Celare EI30, which is a butt-jointed glazing system offering fire protection of 30 minutes with integrity and insulation, was chosen due to its suitability for the modern internal décor of the apartments, and effectiveness in providing compartmentation between the different living areas. It was specified with a feature anthracite trim, but otherwise SystemglasCelare appears virtually frameless thanks to its Promatect H frame which is concealed within the surrounding walls, floors and ceilings.
Christ Church's centrepiece gothic and trapezoidal windows required a different approach which involved SystemGlas Ligna, a timber-framed, fire-rated glazing system. An EI60 rating was provided to ensure the original stained glass windows and stonework will be protected in the event of a fire without compromising the aesthetics of these attractive original Victorian elements.
Cliff Hamilton, managing director of Renaissance Design and Build said: "The building is absolutely amazing. The devil is in the detail, and we made sure that every aspect of the building was finished to the highest possible standards. The Promat glazing systems were ideal with bespoke frames, slim sightlines and clear butt joints meaning that we never had to compromise on our ambition for the internal appearance of the building."
Keith Crouchman, Renaissance's project director, added: "I was really impressed by the professionalism and expertise of Promat and Rated Solutions. They worked extremely hard through the pandemic to ensure we kept to our original build schedule."
In addition to the third-party accreditation that supports all Systemglas specifications, Promat provides building owners with 360-degree assurance that their fire-resistant glazing has been designed, manufactured and installed to deliver the performance specified. This includes a project-specific Certificate of Conformity, which is provided after a check of the finished installation.
Promat Systemglas is a complete range of fire resistant glazing systems, which includes steel and timber frame options, plus Promatect H framing which can be overclad, painted or concealed. Suitable for internal screens, partitions, atriums and external glazing elements, these high-quality systems are complemented by steel and timber doors, plus a walk-on load-bearing glass floor – all designed to protect lives and assets in the event of a fire.
To find out more, call 0800 588 4444 or visit promat.com.