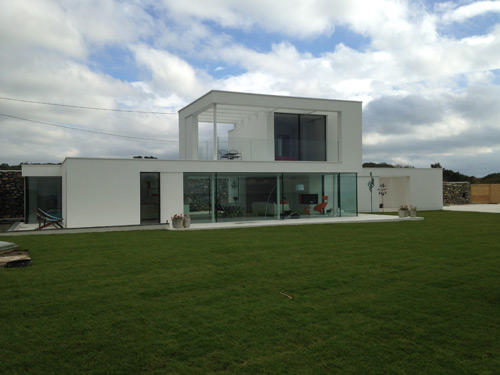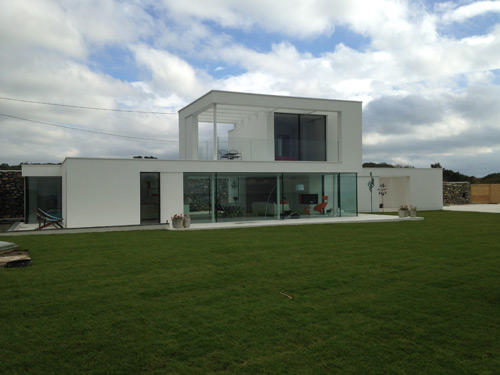 A home incorporating Roof Assured by Sarnafil single ply roofing membrane has been shortlisted for the Welsh Gold Medal for Architecture Award.
Cefn Casttell, Criccieth, North Wales, has been shortlisted for the 'Best New Building in Wales' Award 2015. Included in the project was the design and installation of a Sarnafil single ply flat roof membrane and Sarnatherm roofing insulation. The project was previously featured in Channel 4's Grand Designs programme.
Roof Assured by Sarnafil approved installer, Inner World Design & Build was chosen as the main contractor for the build of this family home and commissioned SPR Roofing, also a Sarnafil approved installer, to deliver the complicated roof installation. The 185m2 roof covered the whole property and a slate grey Sarnafil single ply membrane was applied with adhered baton profiles to re-create the piping of a traditional lead roof.
The installation was technically demanding, as Ian Hunt, managing director, Inner World Design & Build, explained: "Installing the roofing membrane was quite a challenge on account of the varying pitches and parapets, as well as various penetrations for drains, roof windows, columns etc. On top of that, we had to catch a break in the weather as, although the Sarnafil membrane can be installed in most weathers without any problems, a prolonged period of wet weather was not ideal for the installers!"
Homeowners Rob Hodgson and his partner Kay, conceived the plan to design and build this 'dream house' in a wonderful setting on Cardigan Bay, overlooking the sea.
Ian Hunt said: "It was a fantastic project, brilliantly designed and carefully detailed.
"The assistance from the Sika technical team along with Simon Roche of SPR Roofing in meeting the challenges posed by this complicated roof was absolutely invaluable. "
Charles Pierce, head of Roof Assured added: "We are delighted to have had the opportunity to be involved with this exciting project and are particularly proud that Cefn Castell has been shortlisted for this prestigious award which recognises excellence in buildings. It gives well earned recognition to our registered installers, Inner World Design & Build and SPR Roofing, for their involvement in such an exciting and challenging project. We wish all the shortlisted schemes the very best of luck."
Supported by the Design Commission for Wales and awarded in association with the Royal Society of Architects in Wales, the medal recognises excellence in buildings completed between 1 January 2012 and 14 March 2015.