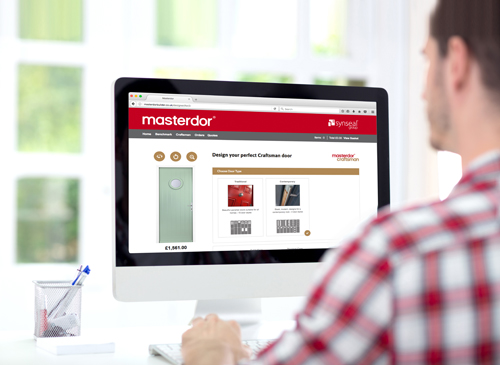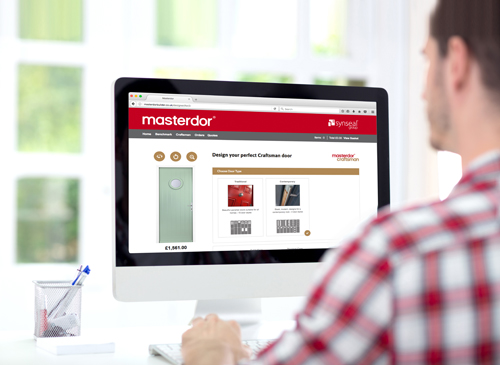 Synseal Group reports that it has launched a new online ordering portal for the Masterdor GRP and engineered timber door ranges as part of a £175,000 investment in digital 'customer solutions'.
Over the past six months the systems company has released a series of new digital platforms to support its customers, including an all-inclusive trade website covering the whole Synseal Group product range, a 'streamlined' customer service platform and an app for the Masterdor Craftsman range which uses augmented reality to help homeowners 'design and visualise their perfect door'.
The new Masterdor portal enables customers to complete their orders online 24/7 with the ability to design both Benchmark GRP and Craftsman timber doors from scratch, including style, colour, glazing and hardware. This incorporates the whole range of 19 Benchmark and 28 Craftsman styles.
Andy Jones, group sales and marketing director at Synseal Group, said: "We're investing in digital solutions which respond to our customers' needs to access information quickly, easily and on-the-go. Now customers can track their queries with us online, browse our full product range in one place, and create bespoke door orders online at a time that suits them.
"The new Masterdor portal which has just gone live will make it much easier for our customers to order doors to exact specifications and to see what they look like online before completing their purchase. With the Craftsman range, we now have 28 styles in 21 colours, all available with a choice of 44mm or 54mm thicknesses with an optional thermal core – so it's important that our customers can specify exactly what they need online in just a few clicks.
"Some of our customers make regular orders of the same products so we have designed the portal to be easy to make repeat orders; but for customers who are responding to bespoke orders from homeowners it gives them the flexibility to design online with the customer on hand if they wish, and to visibly see their final product. This is a big step forward in modernising the Masterdor brand since we acquired it two years ago, and will make a huge difference to customers who have been limited to making orders over the telephone during office hours.
"On top of this, our Craftsman AR app which we launched just a couple of months ago enables installers and homeowners to design their Craftsman doors on their mobile or tablet device, and superimpose this directly onto a customer's home or an existing door in the showroom, making it the perfect tool for installers on the go.
"We've received excellent feedback from customers on our most recent digital investments and are confident they will help our customers to reduce their admin time and to improve their conversion rates."
The new Masterdor online ordering portal is available for existing customers. To sign up, visit www.masterdorbuilder.co.uk/register. You can download the Craftsman AR app for free via the Apple Store or Google Play, or browse the full range of Synseal Group products and services at www.synseal.com.