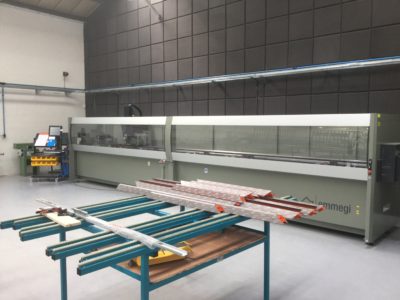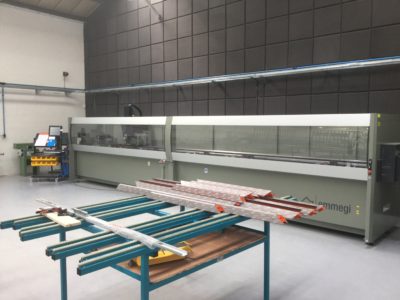 Newly established Warmcore fabricator, Aluhaus, has chosen Emmegi (UK) as its principal machinery partner. The Nottingham based company, set up by 'industry veteran', Tim Armitage, specifically to manufacture bi-folding doors, windows and entrance doors in the thermally efficient Warmcore aluminium profile system, has invested in an Emmegi Phantomatic X6 four axis machining centre and a Classic Star saw.
Emmegi (UK) helped Aluhaus to select the machines which were best suited to the very specific requirements of fabricating in Warmcore, particularly the Phantomatic X6 which offers a fourth axis with a rotating head which can carry out the specialist routing required at 45°. The rotating electro spindle moves from 0° to 180°so it can machine on five sides of a profile section including the profile edge.
The electronic twin-head Classic Star saw had been used by Aluhaus' new operations manager, Adrian Locker, in previous roles, who had been impressed with its 'consistent precision and reliability'.
Before ordering the new machines, the Aluhaus team visited several other fabricators' factories where the machines were already in operation, and the feedback was very positive – not just about the machines, but about the level of support and technical back up available from Emmegi (UK).
Tim Armitage said: "Aluhaus is geared towards offering our customers a premium buying experience – an exceptional quality product backed up by expert advice and supremely efficient service. That's what we've received from Emmegi (UK) so far and that's certainly what we will be passing on to our customers."