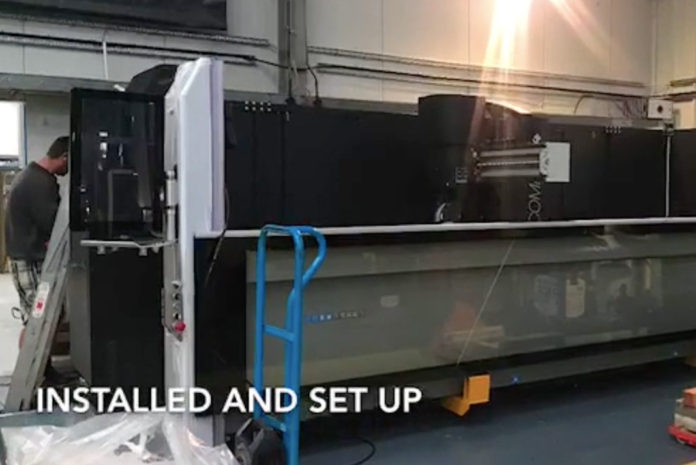 Alitex has released a time lapse video, called 'here Cometh the Comet', which shows the arrival of a new Comet R4I 5-axis CNC machine at its factory in Hampshire, the first of its kind to be installed in the UK.
To watch the video, click here.
Alitex manufactures high-end Victorian-style aluminium greenhouses and conservatories and already has ten Emmegi machines installed, ranging from a single head saw supplied way back in 2002 to a five axis Satellite XT machining centre supplied in 2016.
Driven by renewed consumer focus on gardens and outdoor space which has been one of the features of the pandemic, the company says it needed to expand its machining capacity to keep up with demand.
Following discussions with Emmegi (UK), Alitex chose the new Comet R4I model, which is the latest version of Emmegi's 5-axis, 4m Comet R4 machining centre. The I stands for 'Independent' because it offers independent positioning of the motorised vices. While the electrospindle is operating in one area, the machine can be automatically setting up the vices ready for machining in the next, saving significant amounts of operator time.
The Comet R4I further optimises efficiency by machining from -15° to 90° on the horizontal axis and a full 360° on the vertical axis. It has a 12-piece tool magazine with guaranteed fast changeover and a mobile worktable to make for easy loading and unloading of bar lengths up to 4m.
Having been an Emmegi customer for so long, Alitex says it had 'complete faith' in the delivery and installation of the machine, even during the current restrictions. The team is said to have been particularly impressed by the fact that Emmegi in the UK arranged a virtual Factory Approval Test (FAT) of the Comet R4I at its factory in Italy before it was delivered.
Emmegi's sales manager, Andrew Jones, explained: "Some of the Alitex team were originally scheduled to travel out to Italy to carry out the FAT test for themselves, which was obviously not possible under the current restrictions, but we worked out the next best thing."
Now that the new machine has been installed, it is reported to be generating considerable interest amongst other UK customers. Alitex adds that it is so pleased with the installation that, while travel to Italy still requires extended quarantine, it is allowing serious potential buyers to see the machine in action at its factory just outside of Petersfield.