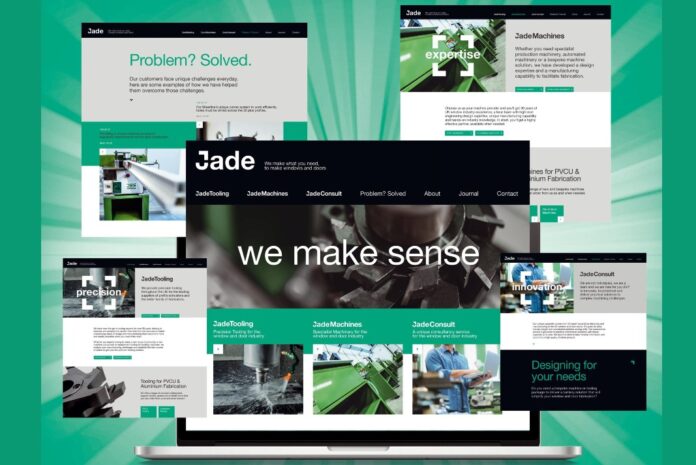 Jade Engineering has redesigned its website and logo. Using text, photography and HD video, the new Jade Engineering website explains everything offered by the Coventry-based firm and includes case studies within the website's 'Problem? Solved.' section.
"The time was right to redesign our overall image," said Sean Mackey, who with Adam Jones has built Jade into the industry's de facto machine tool supplier over the past 30 years. "It's fresher, clearer and better reflects what we are today."
Sean added: "Our machine tools are to be found in every PVC-U fabricator and the majority of aluminium frame makers too. But we often hear the phrase: 'I didn't know you did that,' when we are simply chatting about day-to-day business issues. So we decided to up our game, and take the guesswork out of it."
In addition to the products for which the business is best known, Jade Engineering designs and manufactures standalone, task-specific machines. "Our end millers, bead saws and more unusual kit such as the Jade reverse butt cleaner are inexpensive solutions to problems many fabricators often don't know they have," explained Adam. "Our new website will show the whole range, including videos of some of the machines we supply."
The website is divided into three main groups: Jade Tooling, Jade Machines and the firm's fast-growing Jade Consult division. The latter division has been growing spectacularly, according to Sean, and is what the website will probably explain the most effectively: "When chatting with customers, they will often mention a production issue that they have been unable to resolve," he said.
"We believe there is always a solution, and we will then design, manufacture and install it for the client. This has led to larger and more ambitious projects, now including complete production lines and start up factory kit outs. It's very big business and we are the only firm that has the expertise to offer it. Tell us what you want, how much you have to spend and we will design, supply and commission it for you." Read more about Jade Engineering here.