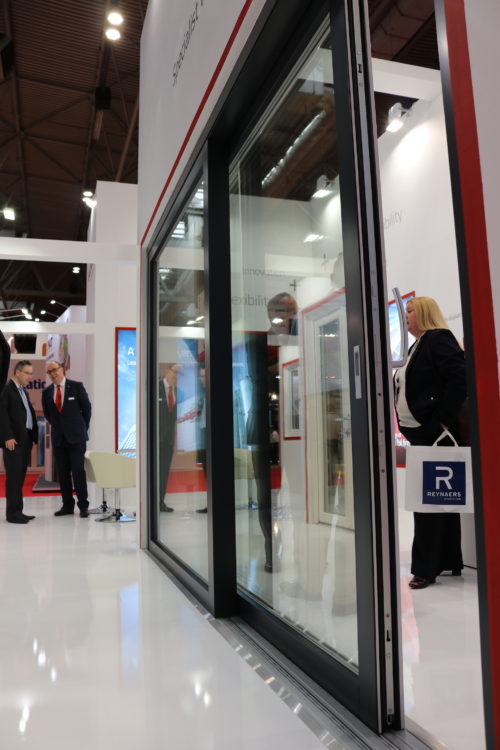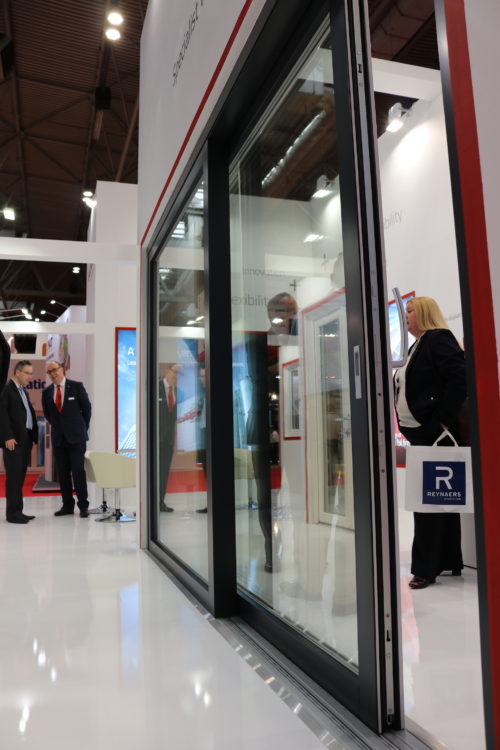 Offering 'significantly reduced' manufacturing times, Passive Haus equivalent standard thermal efficiency and modular Aluskin aluminium external cladding options, Aluplast's new lift-and-slide was said to be at the forefront of 'a new generation of PVC-U products' on show at FIT 2017.
Capable of spanning openings of 6.5m X 2.8m, the modular 85mm system can reportedly accommodate glazing units of up to 51mm to deliver 'U' values as low as 0.65 W/m2K, meeting Passive Haus standards – a reported first for the product type.
Also, delivering manufacturing time efficiencies of up to 40% over comparable systems, Ian Cocken, director of sales and marketing, Aluplast, said, the new Aluplast lift-and-slide door, combined a strong architectural aesthetic and advance performance.
"The lift-and-slide mechanism, the 'U' values that this door can deliver, the flush threshold, it's weather performance, combined with an exceptional aesthetic, including the Aluskin aluminium option, gives the lift-and-slide incredible reach," he said.
"There has been a definite shift within the market to premium products. The lift-and-slide can be manufactured highly efficiently. As a modular system, stock holding is kept to a minimum, while it can also be sold as either a standard or with a foiled or aluminium external finish.
"This gives the Aluplast lift-and-slide huge market potential, something which I believe anyone who came to our standard during the show recognised immediately."
Ian Cocken added: "What the FIT Show has been about for us, has been showing UK fabricators and installers how much we're investing in new product innovation and what that's bringing to the UK fabrication and retail sector.
"Our customers can access global leading innovation at what is a very competitive price point. Again, that wasn't lost on visitors to the stand this year. This is something which provides us with a real springboard for our continuing growth and increasing market share this year."
Summing up, Keith White, managing director, Aluplast,  said: "It was an important show for us in that we showcased first-hand the product innovations that Aluplast is bringing to the UK. Our new Lift-and-Slide door attracted a high level of interest and I think we'll certainly see business on the back of that.
"In our experience, the first two days were very busy – although I'm personally not quite sure that the late finish on the Tuesday night was worth it. The third day was perhaps a little slower.
"But what the FIT Show gave us was a platform to catch-up and meet with customers and prospects and in that was very valuable."