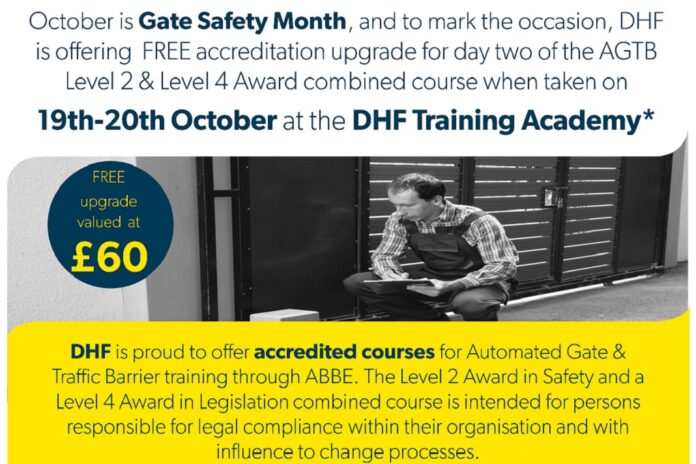 The Door and Hardware Federation (DHF) is offering a training upgrade to mark Gate Safety Month (October). Gate Safety Month is a campaign that was originally launched by the federation in 2014. It exists to promote the continued safe installation, repair and maintenance of automated gates, to raise awareness of how to spot an unsafe gate, and to educate people about the dangers of poor installation and maintenance.
Thanks to the DHF, free accreditation is set to apply on the second day of the DHF's two-day combined level two award in safety and level four award in legislation. The free upgrade (worth £60) applies to courses that are due to take place on 19 and 20 October at DHF's training academy in Tamworth, Staffordshire.
The second day of training is scheduled to focus on technical and legal responsibilities. The DHF claims to be the only provider across the industry to deliver accredited, theory-based courses.
The offer also applies to the DHF's distance learning programme for level two Automated Gates and Traffic Barriers (AGTB) safety, level four in AGTB and its Industrial Garage Door (IGD) legislation combined course, when booked in October.
Patricia Sowsbery-Stevens, DHF's head of commercial operations, said: "The DHF remains the go-to expert on the dangers centred around poorly installed and maintained powered gates. We are very pleased, therefore, to be able to make this offer to members and non members on the eighth anniversary of the campaign that we started. The federation continues to prioritise training, accreditation, safety and compliance in order that safe products are placed on the market."