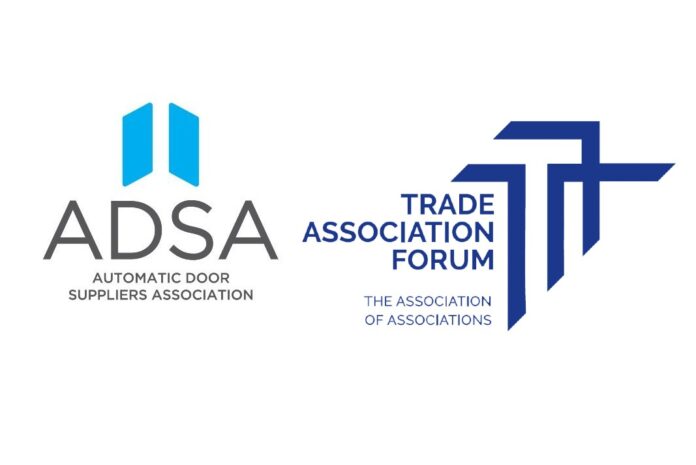 The Automatic Door Suppliers Association (ADSA) is now a member organisation of the Trade Association Forum (TAF), a representative body for professional trade associations across the UK. The move is intended to help ADSA become more involved in 'bigger picture' issues through the TAF's links with UK government and industry leaders, ADSA's leaders have said.
"We are keen to be at the forefront of issues that affect the UK and the wider construction industry," said Ken Price, ADSA's managing director. "TAF's involvement with government will help open doors and enable the voice of the automatic door industry be better heard by key decision makers and policy setters."
The TAF was founded in 1997, having been instigated by the then president of the Board of Trade, Michael Heseltine. It has around 130 members and represents industries ranging from railway and transport to jewellers and hairdressing. The TAF has also partnered with the Institute of Association Leadership to develop a leadership programme and resources for trade associations.
Ken added: "There have been a number of critical reports and legislative changes that have affected the wider construction industry in recent times: the Hackett Report, which led to the Building Safety Act, and three PAS competency frameworks for principal designers and specifiers, principal contractors and building safety and management. Being part of TAF, with access to key resources, will allow us to be more proactive and, in turn, pass on benefits to our members by harnessing best practice."
Emily Wallace, TAF's CEO, said: "We are delighted to welcome ADSA as a member of TAF. As the 'association of associations', we provide support and networking opportunities to trade associations across the UK, many of which face similar challenges in terms of operational activities. Our range of services and activities are designed to assist strategic development and day-to-day running of organisations, and our close work with UK government, partners and sponsors, helps our associations deliver real value for their members."