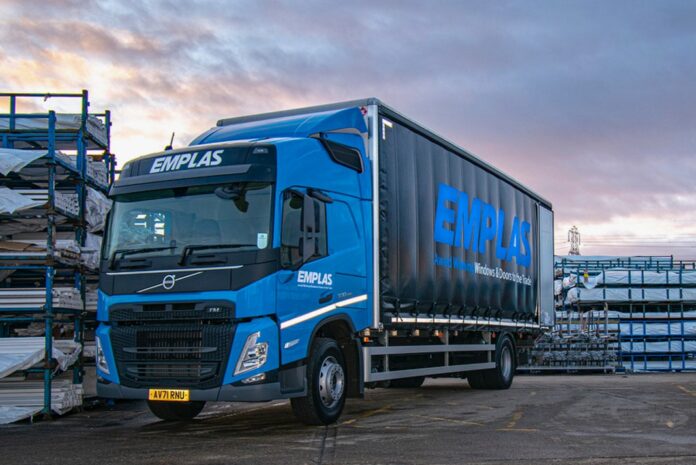 Window and door manufacturer Emplas has increased the capacity of its nationwide delivery fleet with the addition of a new, more fuel-efficient Volvo FM Rigid truck. Representing an investment of more than £117,000, the new, 18-tonne vehicle combines the latest Euro 6 emissions standards with modern aerodynamics, helping to improve fuel efficiency by 50% compared to older models.
With two additional Volvos on order, the new, greener truck, which features Emplas' latest livery, increases the Wellingborough fabricator's own delivery fleet to 16 vehicles in total, further enhancing its customer service and ability to cater for ongoing demand across its PVC and aluminium product range. Jody Vincent, Emplas' sales director, said: "We've invested significantly in product and service over the course of the pandemic, and by bolstering our delivery fleet, we are now better equipped to respond to continuing activity in the retail sector as we head into 2022.
"Our new Volvo FM truck increases our capacity to deliver product, but importantly, it is able to do so with a significant reduction in emissions, which in turn helps to reinforce our commitment to operate as sustainably as possible." For more information about Emplas, visit emplas.co.uk, email info@emplas.co.uk or call 01933 674 880.