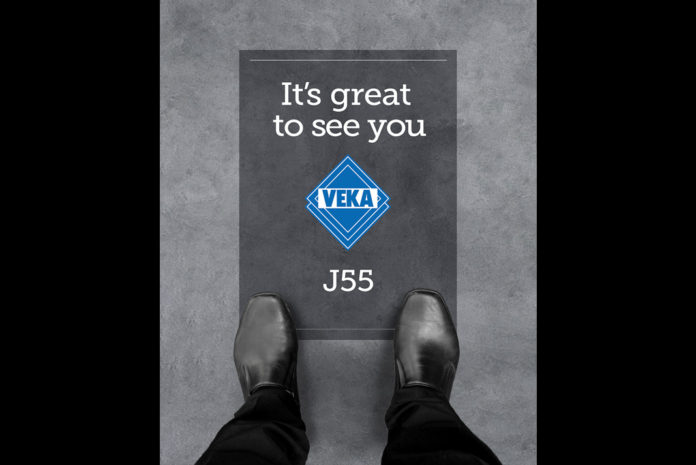 Veka Group says it is getting ready for a FIT Show with a difference, celebrating its 50th birthday in style. Not only will the team be demonstrating the newly unveiled, next generation Imagine vertical slider, it will also be introducing an exclusive, technical innovation that, claims Veka, the industry is 'yet to see the likes of'.
Dawn Stockell, marketing director, said: "As ever, the FIT Show gives us an opportunity to demonstrate exactly why Veka Group leads the field in innovation and offers customers strength and stability in such an ever-changing industry. This year has the added bonus of being the global group's 50th birthday, so we have even more to celebrate than usual!
"We're excited to be unveiling an entirely new product at the FIT Show which is exclusive to Veka Group. It's been years in the development and will offer our customers another 'stand out' product to add to their portfolios."
The stand is designed to showcase a number of technically advanced products from its Veka, Halo and Imagine ranges. The Imagine vertical slider is just one of the products making its FIT show debut.
The new Imagine vertical slider is reported to be the most technically advanced of its kind, offering 'countles's features that add value to fabricators and installers. One stand-out feature is a black co-extruded chamber which means there's no need to mask and paint during fabrication. According to Veka, time is saved, quality defects are reduced and the finish is more durable and professional. Visitors to the stand will see it displayed in a good, better, best and bay configuration, demonstrating the product's versatility.
Veka says that other products featured at the show include some 'popular classics given a new twist'. Visitors to stand J55 can see the complete collection of flush sash systems from both Veka and Halo in a range of 'interesting' configurations. The Imagine patio door will be displayed in a four-sash formation that's PAS 24 and Secured By Design and there's a new perspective on the Imagine bi-fold door. The Halo PVC-U door has been engineered in a contemporary design and features an innovative Winkhaus Smart Lock.
Dawn added: "At the show Veka will also be displaying the latest Variations offering that has been updated for 2019 to make it even more useable, helpful, and easy to understand for customers. The demand for coloured products presents a huge sales opportunity for our customers, which is why we've made it even easier to order coloured profile. 95% of Veka Group laminated sales are now from stock; that's 27 colour combinations across 14 colours covering all products.
"We stock what our customers sell and everything else is made to order, so there's no 'chasing rainbows' when it comes to availability. We're committed to providing the colours our customers want, when they want them, in the most straightforward way."
Visitors to the Veka Group stand can expect 'spectacular' big-screen films and a number of surprises over the course of the show. The team will also be on hand to discuss anything and everything related to Veka Group including products, systems and the support available to customers, as well as the countless benefits of joining Independent Network.