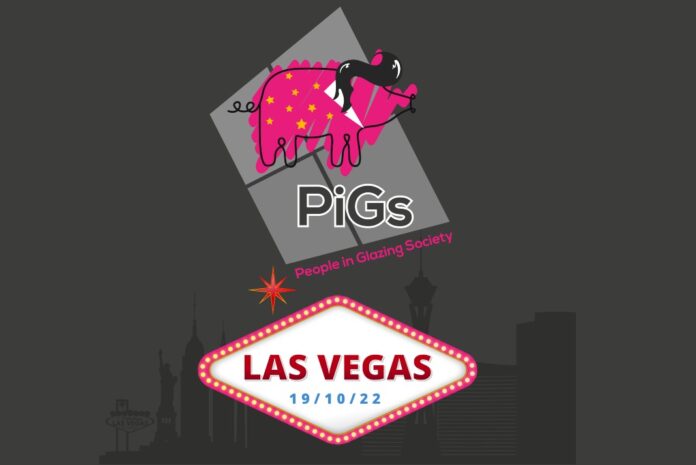 The People in Glazing Society (Pigs) has collaborated to organise a 'British Pavilion' stand at this year's GlassBuild America exhibition, which is scheduled to take place in Vegas from 18 to 20 October. The British Pavilion is set to unite four UK companies under one banner: Georgian Bar Company, UAP, Ciilock and EDM.
The British Pavilion team plans to host an afternoon soiree, sponsored by Quickslide, just before the Vegas-based Pigs event on 19 October.
Phil Dewhurst Jr, commercial director of Georgian Bar Company, said: "Sarah and I discussed the idea of bringing together potential UK exhibitors at Glassbuild in a 'pavilion' 3 years ago. I'm glad that we persevered to bring it to Vegas this year.
"Sarah had decided that, after two previous successful Pigs events at Glassbuild Atlanta and Vegas, this one should be the best one yet. With what's planned and the British Pavilion at the show, I'm sure it won't disappoint. Both will provide an excellent opportunity for British companies looking at the vast opportunities the US market has to offer."
"It's likely to be a busy stand," explained Sarah Ball, the organiser of Pigs and the joint MD of Balls2 Marketing. "We had wanted to do something within the halls, as we have close ties with the management at GlassBuild America, but the pandemic scuppered the last 2 years. It makes it even sweeter to know that we have managed to get a space on the floorplan this year."
The L-shaped stand is in the first hall, and is designed to show the best of British manufacturing. It aims to attract US companies looking further afield to UK experts, and to serve as an ideal meeting point for UK visitors. For Pigs members, GlassBuild America has generously offered FREE tickets to encourage more visitors to the show.
Sarah added: "If it's anything like previous years, there will be lots to see for glazing geeks. The make up of the US supply chain is significantly different to the UK model, which makes it massively interesting. It can offer big opportunities for componentry and service led products."
Barry Halpin, UAP's national sales director, said: "UAP has ambitious growth plans both within the UK and overseas. Exhibiting at GlassBuild America is a chance for us to learn more about entering the US market and will enable us to identify key trends, opportunities and challenges. The event also provides an ideal platform for us to demonstrate the breadth and quality of our range. We're hoping to speak with potential distributors to explore how we could work together and what UAP products could meet the needs of their customers now and in the future."
Sarah continued: "Vegas is a popular location. We are expecting a big crowd to the networking event we are running alongside GlassBuild America. We have booked an English pub, the Crown and Anchor on W Spring Mountain Road. People in the glazing industry on both sides of the Atlantic are welcome.
"As ever, we can only run these events thanks to the generosity of sponsors, and we would welcome more sponsors for our Pigs in Vegas networking. As ever, thanks go to our wonderful sponsors, who at the time of writing are: Georgian Bar Company, Wintech, UAP, Ciilock, EDM, The Consultancy, Quickslide, Extrudaseal, RegaLead, Emplas, Supalite, Yale DWS, Inagas and GlassBuild America organisers, the National Glass Association."
For more information about how to sponsor, call Sarah on 07540 049 655 or email sarah@balls2marketing.co.uk. The next UK-based Pigs event is due to happen in Birmingham on 29 September, following a successful debut in Bristol. Click here to register attendance for September's networking event.