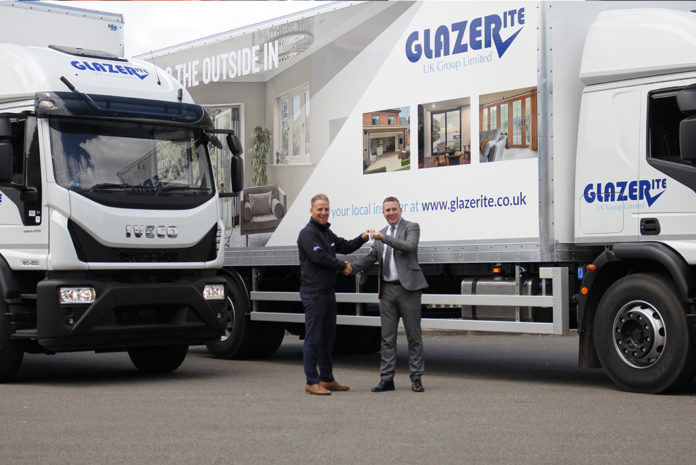 The Glazerite UK Group has made a £150,000 investment into the expansion of its delivery vehicle fleet, with the addition of two new 18-tonne, custom built lorries. The move will further strengthen the Veka fabricator's ability to deliver to customers on time, in full, all over the UK.
Ian Lloyd, Glazerite's operations director, said: "The new lorries complement our existing 16-strong fleet of 7.5 tonne delivery vehicles, and will allow us to improve on our distance and overnight capabilities. Being able to fulfil our order book and deliver to customers on time is integral to our offering as a leading fabricator."
Following the investment, Glazerite says it has improved its carrying capacity for particular delivery routes, including Scotland and the South West. Ian commented: "Deliveries from Glazerite North West to Scotland, and from Glazerite's HQ in the Midlands to Cornwall, South Wales and the Isle of Wight involve overnight stays. These routes are growing in volume and often we have to send two trucks. This investment allows us to cater for that growth and complete these deliveries utilising one larger vehicle."
Two dedicated drivers have been employed by Glazerite at its sites in Wellingborough and Bolton – where the vehicles are based – and both have already begun making deliveries to installers.
Glazerite's fleet has undergone a largescale rebrand in the last 18 months following the fabricator's transition from Glazerite Windows to The Glazerite UK Group, and the rebrand of Network Veka to Independent Network.
Michelle Wright, group marketing manager, explains what a key part the vehicle livery plays in Glazerite's profile. She says: "Our vehicle livery approach has been to focus on retail rather than trade following the recent rebrand. The fleet covers tens of thousands of miles across the UK every week, making it one of our most valuable and visible brand carriers. We hope that by aligning with our retail brand, the refreshed livery and new lorries will inspire homeowners to invest in high quality windows and doors, which will ultimately benefit our installers."