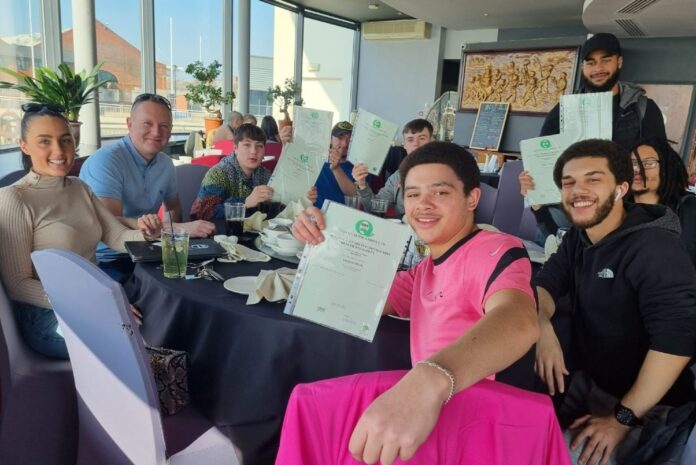 GQA Qualifications is lending its support to 'Nobody Left Behind' – an initiative aimed at helping young people gain industry experience while enjoying sports. The scheme combines community sports programmes with construction-related training and qualifications. It sets out to improve young people's employment prospects for entry-level construction industry roles. GQA is the the glazing industry's awarding and qualifications-writing organisation.
Nobody Left Behind – created by Civil Engineering Careers (CEC) – offers young people who have predominantly been social care service users support, aiming to steer them away from gang culture. After a 4-week programme of community sports training with household-name sports stars, students move on to work towards gaining GQA's Level 1 Award in Construction Health and Safety, and the GQA green general construction site Labourer's CSCS card, as well as health-and-safety-related training such as manual handling and traffic marshalling.
Phil Douglas, technical officer at GQA, said: "I noticed posts in my local area, Liverpool, for community boxing camps. Having been involved in amateur boxing myself at schoolboy level, and also being a boxing fan, I started to find out more about this project. I reached out to and met with the initiative's team, and it was clear that GQA would be a good fit for the learning element of the programme.
"We have rapidly built a good working relationship, and have supported the scheme in its development. I understand that Nobody Left Behind has set itself the challenge of getting 1,000 young people into employment in the next four years, and that's a goal we're honoured to get fully behind."
Barbara Travis, managing director of CE Careers, explained: "I am so pleased to have established a relationship with GQA. GQA supports community initiatives and the education side through a range of accredited courses that help skill young people and give them the best chance of gaining employment.
"As we progress, we will be offering multi-sports including boxing, football, rugby, cycling and hiking. We are offering female-only sessions in boxing with the hope of encouraging more girls to look at construction as a potential career choice, and football camps for both boys and girls with ex Liverpool and England footballers. GQA is a key part of our growth, and a partner that we are immensely happy with as our awarding body."