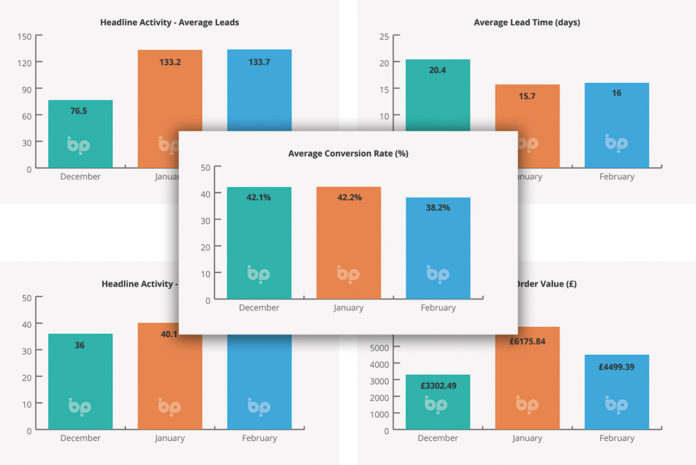 By Neil Cooper-Smith, senior analyst, Business Pilot
The latest Business Pilot Barometer shows that the market for windows and doors remained buoyant this month, with sale activity up 10% on January (January saw a 34% increase on December.) This indicates the current strength of the market, albeit still down year-on-year.
A comparison between February 2020 and 2021 shows a drop of 30%. However, figures last February were recorded pre-Covid and without the complexities of doing business in lockdown. Lead generation is, in this sense, a more accurate measure of market performance.
Leads in February this year remained high, holding steady at 111% up in February compared to December. Drawing a comparison for the same month in 2020, leads were down – but this time by only 9%.
We'd argue that, against the backdrop of continuing restrictions, and a level of uncertainty which wasn't present this time last year, the industry has reason to be optimistic about its prospects in the coming months. And, with pledges from the UK chancellor, Rishi Sunak, in yesterday's budget – to extend the stamp duty holiday to the end of June from April, in line with the easing of lockdown restrictions; as well as a commitment to underwrite mortgages for first-time buyers of up to 95% of their purchase costs – the housing market can be expected to remain on an upward trajectory.
This was evidenced last month when the average price of a home rose by 0.7% to £231,068, according to Nationwide – the highest on record, more than reversing January's 0.2% drop. This took the annual growth rate to 6.9% from 6.4%.
With a first tranche of stamp duty housing transactions on schedule for the April deadline, and another expected to follow in June, we believe demand for home improvement will remain high through to the third quarter of this year, at the very least. The shift away from city centre living to larger, semi-rural properties, also points to potential opportunities in home improvements. The success of these policies is dependent on the UK's wider economic prospects, but these too, appear to remain positive.
The extension of furlough to September this year, in the budget, is likely to further boost consumer confidence – something already up at minus 23.0 in February, compared to January's minus 28.0. This makes February's result the best performance since March 2020, buoyed by the rapid vaccine rollout.
It's one of the defining anomalies of the pandemic: despite the largest contraction in the economy for 300 years (10%), and significant job losses, the wheels of the economy, despite a number of shudders, have, in most areas, kept turning. As part of his budget address, Sunak predicted 4% growth in GDP this year, and forecast 7.3% next year – which, with continuing high levels of activity points to continuing demand for home improvements!