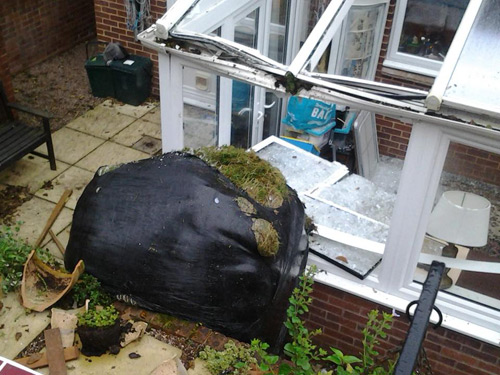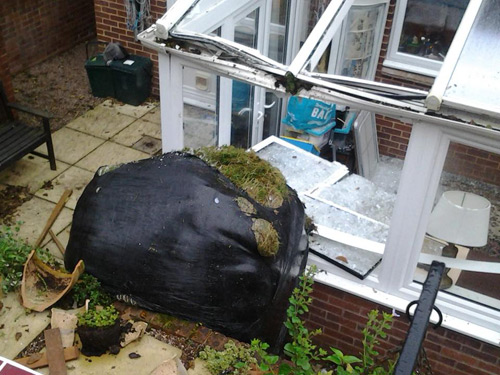 A couple in Exeter have praised their Ultraframe conservatory for 'saving their lives'. Mr and Mrs Bushell were said to be sitting in their conservatory, which was installed by Realistic Home Improvements, when it was hit by a 600kg silage bale that had rolled through a hedge from a neighbouring field.
Despite landing on top of their conservatory, smashing two of the glazed roof panels and raining down safety glass on Mr & Mrs Bushell in the process, the frame remained intact and the couple were spared any serious injuries.
"The conservatory style is a lean-to, on bolster beams," explained Ryan Barrett, managing director at Realistic Home Improvements. "The ring beam was twisted but the bolster beams remained intact. If it had been a polycarbonate conservatory without the reinforced roof, it could have been a lot worse."
Mrs Bushell said: "Thank goodness we made the choice of conservatory that we did. If we hadn't selected such a good quality, solid conservatory, we'd probably be dead now. When I asked my husband how he wanted to repair the damage from the silage bale, he told me simply, 'I want exactly the same conservatory as the one which saved my life."
The team at Realistic Home Improvements, based across Devon and Cornwall, are now in the process of installing a new Ultraframe conservatory for Mr & Mrs Bushell.
"This conservatory was one of the first we installed after becoming an Ultra Installer in 2012," explained Ryan. "I wanted to become an approved installer because I like to do things by the book – it's peace of mind for me and for the homeowner. This type of situation is obviously rare, but when things like this happen, it's so good to know we've installed the best for our customers."