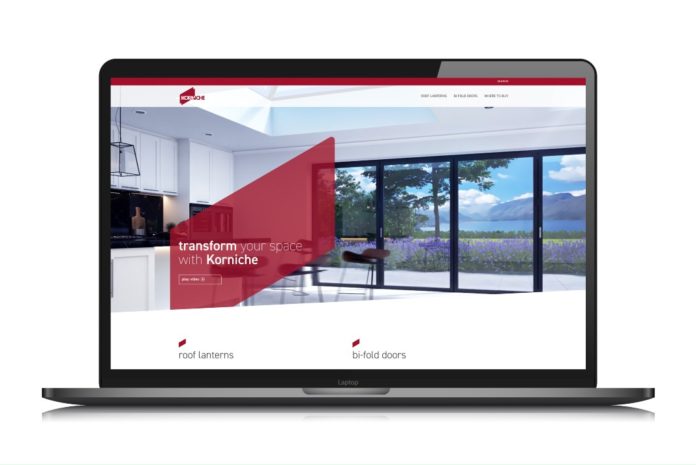 The multi-award winning Korniche product line, from fabrication specialists Made for Trade, has been rebranded. The new branding was showcased at the Homebuilding and Renovating Show, in London's Excel exhibition centre, from 24 to 26 September. It will also be displayed at the Harrogate show from 5 to 7 November.
Since 2016, the name 'Korniche' has gone hand in hand with success, the brand's owners claim, defining 'revolutionary, engineering-led design' as well as quality and value. Made for Trade aims to deliver 'the best products, with the best service at the best prices'.
'Korniche' was initially synonymous with the launch of the Korniche roof lantern, which won multiple industry awards and continues to be hugely successful, said Made for Trade's representative. As part of a new chapter for the Billingham-based company, 'Korniche' will now represent a range of products from Made for Trade.
Ian Bousfield, Made for Trade's marketing manager, said: "We're delighted to be able to unveil a fresh new look for our Korniche branding in 2021. As the name begins to represent a range of products sharing the same key values, we've worked to create a unique new style that proves quickly recognisable to glazing experts and new customers alike. The logo and branding will cement a familiar name in the minds of consumers looking for a trusted 'go-to' brand in glazing products, whilst enforcing Korniche's award-winning characteristics that place products as the trade's number one choice for quality, installation speed and efficiency – both for the current roof lantern and forthcoming bi-folding doors."
The new-look logo and style has been introduced across digital and physical platforms, from the end of September 2021. The new look is designed to offer broader appeal and help drive sales.
Korniche bi-folding doors are in the final stages of market testing before mass production and rollout later this year. The same multi award-winning qualities of the lantern roof will be incorporated into everything about the doors, the Made for Trade team claims, from design to installation.
The Made for Trade team hopes that the new logo and design accents will drive the brand forward as quickly identifiable to consumers, and as a leading name in the market, capitalising on the success of the roof lantern. The rebrand comes with stylised digital updates too, aimed at not just refreshing but also improving the sales process and maximising sales for trade customers.
The revised Korniche website will feature a video-based landing page intended to instantly showcase the lifestyle desirability of Korniche products to prospective consumers. The video offers a visualisation of the advantages and qualities of the products in real-world build environments.