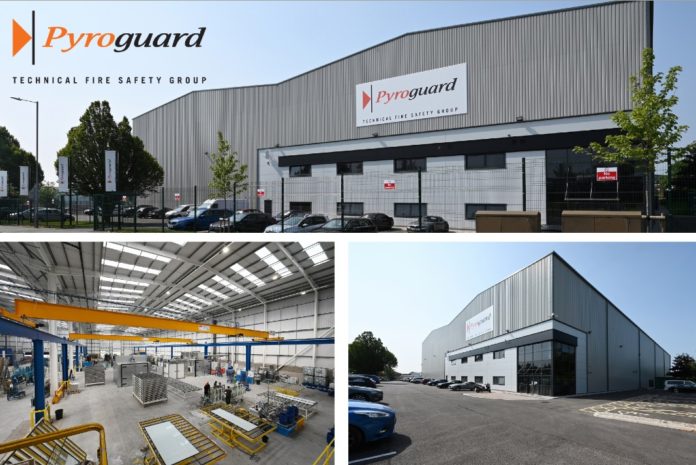 Pyroguard, part of the Technical Fire Safety Group, has relocated one of its UK production facilities to a brand-new, three-acre site in Haydock, Merseyside. Demonstrating Pyroguard's ongoing commitment to business growth and expansion, the new facility is more than three times the size of its previous site, at over 62,000ft².
In response to the rapidly growing demand from the UK, Irish and Scandinavian markets, Pyroguard hopes that this second UK factory, which is adjacent to Pyroguard's existing headquarters, will dramatically increase production capacities for Pyroguard's toughened, gel-filled Pyroguard Protect, and its monolithic, toughened Pyroguard Firesafe ranges. As well as enabling Pyroguard to offer improved and shorter lead times to its customers, the new production facility also allows specialist capabilities, such as glass cutting, toughening and multi-functional insulated glazing units (IGUs), to be fully manufactured in-house, resulting in a much more efficient production process.
In addition to production efficiency, Pyroguard's commitment to environmental sustainability was also at the forefront when planning the move, with the facility offering improved energy efficiency. The factory layout and flow has been designed to minimise waste and maximise recycling opportunities, with more efficient curing ovens and heating technologies installed. The new factory was fully fitted out and operational in just 13 weeks.
Neil Tilsley, the Technical Fire Safety Group's chief executive, said: "The relocation of Pyroguard's second UK factory to this brand-new facility forms a significant investment for us, and is testament to the growth and ongoing success of the group. Our new, toughened production facility has equipped us with greater capacity to provide a best-in-class service to our customers, while also helping to boost the local community and create new jobs. As we continue to grow our team, there'll be great career opportunities for local people to join the glass industry and work with a growing British business."
As a global, independent provider of fire safety glass, Pyroguard has been supplying its range of solutions to the construction sector for over 30 years, helping its customers to create beautiful and safe living and working spaces. To find out more about the business, visit www.pyroguard.eu.