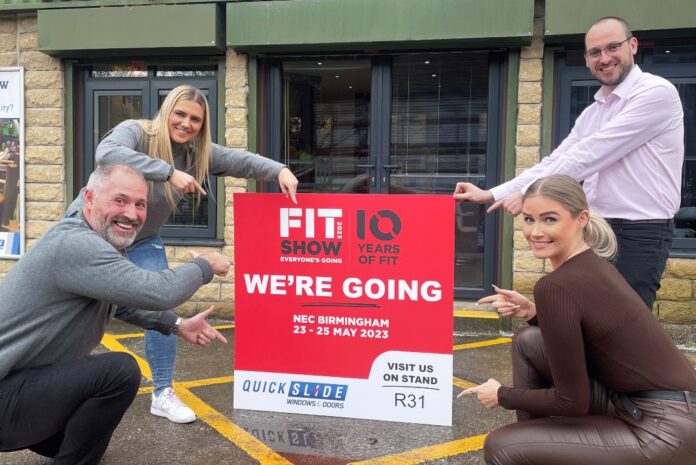 The Quickslide team has themed its large, triangular-shaped Fit Show stand 'Engineering Future Innovations' this year, hoping that visitors won't be able to miss it. The team are to be based on stand at R31 at the dedicated exhibition for suppliers to the UK glazing and fenestration market. The show is scheduled to take place at Birmingham's NEC, from 23 to 25 May 2023.
Stand R31 is to showcase the latest in aluminium doors and windows, including Quickslide's new heritage doors and AluSpace, the 'super-slim' aluminium interior screen and hinged door system which is said to create a striking contemporary room divider in any space. "We're also really excited to show off Indi-fold, the totally versatile aluminium slide-and-stack door system that can be configured to suit any preference" said Ben Weber, the firm's managing director. " The door panels can slide independently as well as open outwards."
The Avia secure smart hardware range is to feature on the Quickslide team's Fit Show stand, to show that products from the range can be fitted to Quickslide's sliding sash or casement windows. To answer any questions about the smart technology, a representative of Mighton – Quickslide's smart solutions partner business – is set to be on hand at the stand, and ready to answer those questions.
Visitors to Fit Show Stand R31 can find out more about Quickslide's exclusive new dual foils for the business' flagship Legacy vertical sliders too. These are now available in exterior/interior woodgrain combinations of anthracite grey/heritage white and agate grey/heritage white as well as a white woodgrain/smooth white, which is marketed as 'the perfect option to combine traditional heritage character styling externally with contemporary smooth inside'.
A new Legacy vertical sliding feature is also to be unveiled at the show. The detail is being kept strictly under wraps until then, so visitors will have to make a beeline for Quickslide's stand to find out more.
"At Quickslide we're known for being innovative" Ben added. "It's been almost 20 years since we introduced the nation to affordable, traditionally styled sash windows that offer the best in contemporary performance. We've not stopped modernising and leading the field since.
"So stop by our stand to find out what we've got in store, and take a well-earned refreshment with us in our lounge area. We wouldn't be Quickslide without a few fun surprises either. So make this Fit Show one to remember at stand R31. We can't wait to see you."