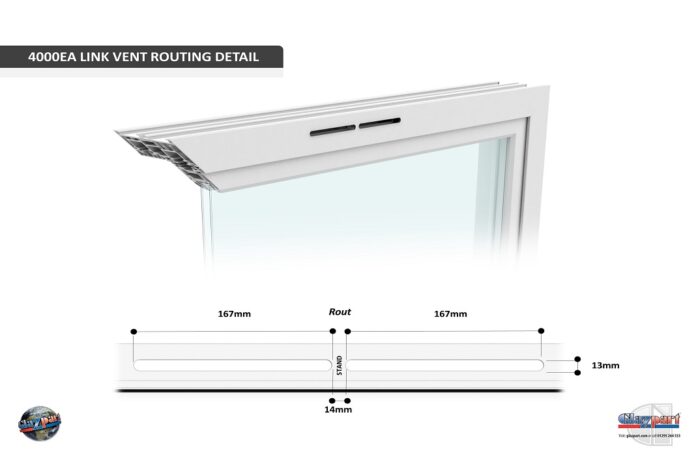 Polymer manufacturer Rehau has worked with the injection moulding business Glazpart to incorporate Glazpart's 4000 Link Vent into its existing range. The move is set to assist window installers and specifiers in complying with Part F of the building regulations, according to Rehau's representatives.
As well as the 4,000 equivalent air area (EQA) link vent, Rehau has also incorporated Glazpart's 2,500 and 5,000 EQA link vents. The compact size of the 2,500, alongside the inclusion of fixing clips, enables for easier and faster installation into window frames and sashes, according to representative of both businesses'.
Dean Bradley, Glazpart's sales director, said: "The changes to the building regulations have had a huge impact on all aspects of specification, most notably frame and sash design. We made the decision to launch this new link vent solution, alongside Rehau, to help relieve the ongoing pressure on specifiers to choose products in compliance to increasing ventilation requirements.
"While compliant with ventilation guidelines, the Glazpart 4000 EQA link vent system allows draughts to be reduced and directed away from occupants. These are also available in a range of colours which match Rehau's Total70 foils, so that they can be sourced as a readily available ventilation solution for a range of window projects."
Offering further support for the navigation of changing regulations, Rehau's 'In The Frame' initiative has involved the publication of four fact sheets. Through these, the polymer manufacturer aims to guide professionals through the changes to ventilation and energy efficiency requirements under the Future Homes Standard documents.
Mark Gajda, Rehau's head of technical services and certification, added: "While the Future Homes Standards are nothing new, the level of updates and debate around the requirements increases the risk of specifiers and installers misunderstanding or being presented with incorrect information. We have taken it upon ourselves to provide assistance and clarity with regulation compliance.
"We have launched legislation-compliant frames and accessories, such as the Glazpart 4000 Link Vent, with product transparency to offer standard solutions for installers. Our 'In The Frame' initiative delves into the technical aspect of the update to Part F and Part L, covering ventilation and energy efficiency respectively, in order to support specifiers."