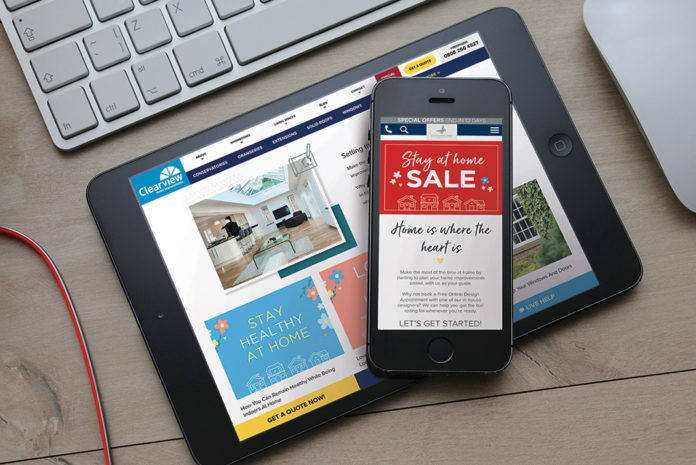 A group of independent retail installers has enjoyed record online enquiries since the government announced the UK-wide lockdown on 23 March, achieving lead volumes in excess of 75% higher than the previous year.
The companies, who are part of the Conservatory Outlet Network, are said to have recognised the importance of continuing to invest in proactive marketing tactics during the COVID-19 lockdown. This has proved to be a lucrative decision for the Network – at a time when most companies have chosen to shut up shop, the installers reportedly now have a 'ready-made sales pipeline' for the months ahead.
Fabricator Conservatory Outlet, which heads up the network, initiated its 'Stay at Home Sale' campaign to adapt to the extraordinary market conditions. Its aim was to continue to generate a consistently strong level of retail enquiries in a socially responsible way to pave the way for a positive return to work.
Greg Kane, CEO at Conservatory Outlet, said: "When lockdown was announced, we quickly realised we would need to adapt our marketing approach to appeal to people at a very emotional, frustrating and confusing time.
"Finding the right balance of empathy whilst meeting the obvious consumer need was key for us when planning our 'Stay at Home Sale' campaign. What we found in reality was that being stuck inside was the perfect time for many to explore and plan their next home improvements. We've also been able to offer exclusive offers to entice customers 'out of the market' before the end of lockdown, which has proved highly successful."
Steven Ormand, managing director at DigitalKOG, Conservatory Outlet's marketing agency, said: "The worst decision a business can make in challenging times is to baton down the hatches and stop investing in marketing. When the chips are down, staying visible is more important than ever – it's as simple as that. The outstanding results seen by our proactive CO Network members are a direct result of their foresight – allowing us to help them use consistent, relevant messaging and creative marketing tactics to appeal to an active market in challenging conditions.
"Utilising targeted 'paid social' channels has been a particularly important strategy for the Conservatory Outlet Network. With everyone stuck at home, scrolling through social media apps like Facebook and Instagram have become commonplace for us all, and we've made sure our customers are right there when people need to find them."