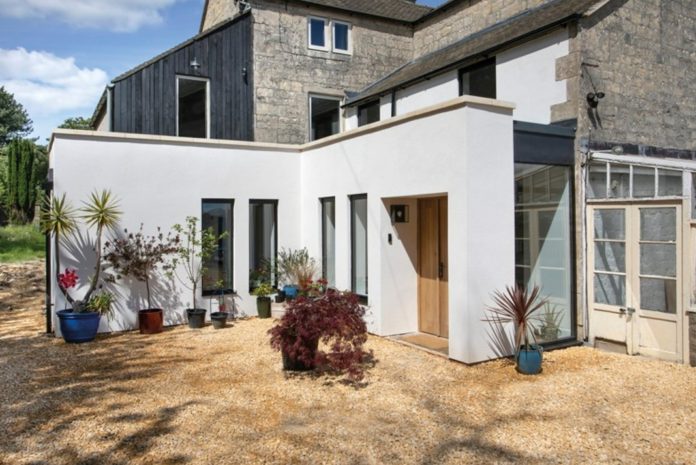 Sheerline's innovative aluminium window and door system is to be featured in a popular home improvement TV programme on Wednesday (10 November). The newest episode of George Clarke's Old House, New Home features homeowner Leighla Davenport and her Grade II-listed home, Callowell House, nestled in Stroud's idyllic countryside. The episode is due to be broadcast on Channel 4, on 10 November, at 8pm.
The refurbishment project saw the construction of a modern extension that was integrated in a meaningful way with the rest of the property. Sheerline, with its slim sightlines and perfectly mitred corners, was a sympathetic enhancement to the original building.
Leighla's newly-refurbished home features a mix of Sheerline products, including 12 Sheerline Classic windows in cream, with Sheerline Prestige fixed frames in black, and two Sheerline Prestige doors, also in cream. Leighla said: "I found Sheerline through internet research of premium aluminium systems companies, and I thought that it was a really nice product. We needed some unusual glazing, and Sheerline had the capacity to do all of the windows we required. At a time where lead times were anything but normal, Sheerline offered the shortest delivery times, meaning we could keep the project on track.
"We have a Grade II-listed building and Sheerline, and the Classic beadless range, with its slim sightlines in particular, works across the entire building – both in our 150-year-old mullion windows and in our new extension – it's so versatile and really brings in light. It's high-performance, maintaining modern functionality as well as being in keeping with the look and feel of our home. Plus, the low U-values mean we don't have to compromise between energy efficiency and the way it looks.
"A huge selling point for me was the fact that Sheerline is Made in Britain, and all the benefits that brings. There aren't many companies investing in manufacturing in the UK, and it's really great to see that happening in Derbyshire."
Roger Hartshorn, CEO of Garnalex, said: "We were delighted to be involved in such a significant project and were pleased to see just how well Sheerline integrated in Leighla's home, offering top-level thermal performance and faultless aesthetics, while remaining in keeping with the rest of the building. The agility of Sheerline's supply chain meant that we could offer dual colours in just a fraction of the time that our competitors were offering, ensuring that the project remained on schedule. The customer was pleased with the support and service she received from our passionate team – one of our team even visited the property to help with the fitting of the windows and doors."
To learn more about Sheerline, visit sheerline.com or sheerlinevideo.com. You can also call 01332 978 000 or email info@sheerline.com. On social media, follow @SheerlineSystem and @GarnalexSystems for the latest news and updates.