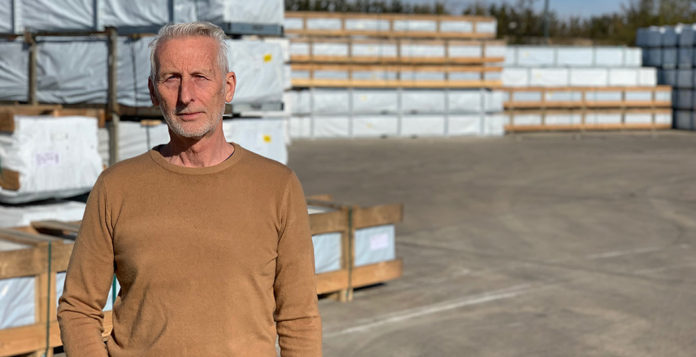 Aluplast has said it has increased its stock holding in the UK to insulate its customers from potential short-term delays in the event of a hard Brexit.
According to the IHS Markit/CIPS UK manufacturing purchasing managers' index (PMI), stockpiling to prepare for Brexit caused a surge in the volume of goods held by UK factories.
Ahead of what was supposed to be the UK's exit from the EU on 29 March, British manufacturers boosted output, the PMI rising to 55.1 last month from 52.1 in February, indicating continued growth in outputs.
Keith White, managing director at Aluplast, said that the German-systems leader had steadily built its UK stock holding to double its stock holding over the preceding months as a pre-emptive step to guarantee supply. He said: "There is a lot of misinformation out there about Brexit and its potential impact on the UK and Ireland. The reality is that Aluplast is a European business which deals with lots of other European businesses inside or outside of the EU and the rest of the world.
"Without wishing to underplay the significance of the situation the country finds itself in, whatever the shape of Brexit, it will ultimately be about paperwork and once whatever has been agreed has been agreed, we'll fill out the forms which have to be filled out and that will be the new normality.
"This said, it's nonetheless prudent to build up our stock holding in the UK to guarantee supply to a key market should there be short-term disruption at the channel."
He added that initial indications and research by Aluplast suggested that even with a hard-Brexit, tariffs are unlikely to impact on the import of PVC-U in either compound or extruded forms, while steel is also likely to be exempt.
"The reality is that whether you're importing bar length or raw compound you're one way or another in the same boat," he continued: "UK-based extruders have to import raw materials in the same way as we and other systems houses, ship profile.
"The short-term disruption that we may face, will impact regardless. That impact will, however, be short-lived."
The UK is said to be a key market for Aluplast, reporting sustained growth since 2013, driven by a series of new product launches.
This includes the unveiling of the German systems house's flush casement, new Inline Smart-Slide patio door and Woodec, the company's next generation timber-like textured PVC-U foil. Woodec includes three 'ultra-life-like' woodgrains: Turner oak malt, a subtle light oak finish; Sheffield oak alpine, a silvered oak finish; and slightly darker, Sheffield oak concrete.
These are available across Aluplast's core Ideal 70 and contemporary Squareline Ideal 4000 system, plus its lift-and-slide patio and new Smart-Slide inline sliding door and flush casement sash.