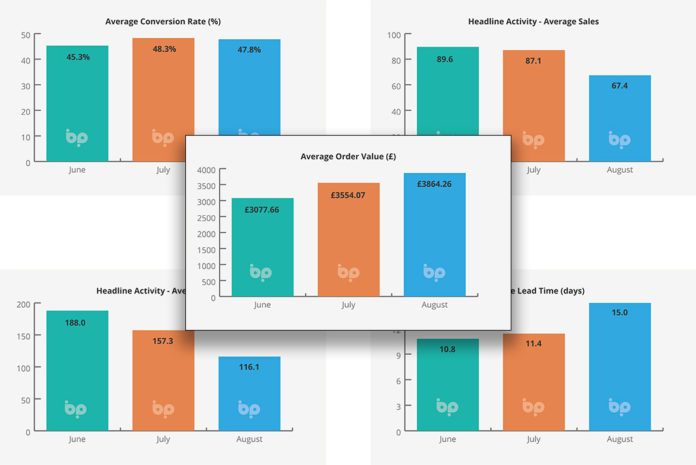 Analysis by Neil Cooper-Smith, senior analyst, Business Pilot
There is a hint – only a hint – that some of the heat is coming out of the market and that end user demand, for the moment at least, may be dropping back to more sustainable levels.
We reported last month that new leads had dropped by 17% on June. The caveat here was that June was a 'monster' month, up 46% on May, which also saw exponential growth in demand.
This translated into this month in an extension of lead times from initial enquiry to conversion from an average of 11 working days to 15.
With it evident that the pressure isn't only being felt by installers but that the window and door supply chain as a whole is 'creaking' under the pressure of demand with shortages of glass; some profile types; hardware and reinforcements a 23% drop in sales in August, may not be entirely unwelcome. Leads also fell away on July, down 26%.
Combined this might be cause for concern – but we don't believe we're there yet. Covid-19 has rewritten the rulebook.
First, if we compare figures for May and August, sales and leads are pretty comparable, with sales and lead generation in August, still coming in a few percentage points higher – so no need to panic quite yet!
There may also be some specific factors to take into account. The miscommunication around the Green Homes Grant may have temporarily cooled the market a little but we don't believe it had a big impact on sales in the longer term.
In the same vein it appears that its potential to exert a positive impact on the window and door industry is also limited.
This, we suggest, means its impact will be neutral overall, with any postponed sales likely to come through this month as it becomes clear that very few homeowners will qualify for funding for new windows and doors.
The far bigger influences are unemployment, the end of the winding down of the furlough scheme and the housing market.
While the window and door industry has seen a boom throughout the summer, nationally GDP to June fell by 20.4% – more than any other country. With the furlough scheme coming to an end, this has led to some fairly alarming forecasts, including a warning from the Bank of England that unemployment could hit 2.5m by Christmas.
This would suggest far tougher trading conditions for window and door companies by the end of the year – but then this is Covid-19 and as we have highlighted, the 'norms', don't apply.
At the same time as being in the second deepest recession on record, the UK is seeing a housing boom, with, according to new figures from Nationwide this month [Sept], prices soaring at their fastest pace for 16-years of 2%. This it attributed to the release of latent demand and the Stamp Duty holiday.
With the fortunes of the window and door industry traditionally going hand-in-hand with those of the housing market, house price inflation and high levels of activity would suggest demand will continue into the New Year, despite potentially lower levels of consumer confidence in the main.
Either way, window and door sales figures suggest a release of some pressure from the market going into the autumn.
The final notable change to comment on is the increase seen in average order values in August compared to July. These increased from an average of £3,554 to £3,864, a 9% uplift, which may indicate a shift away from single purchases as seen over the summer to wider replacement packages.
This would be consistent with increased fragility in consumer confidence as a whole and the 'running-out' of holiday refunds; and a shift to more comprehensive projects linked to movement in the property market.
About Business Pilot
Business Pilot is a CRM designed to mobilise the power of cloud-based technologies, and give installers complete visibility of each and every element of their operation from leads and conversions to job scheduling, cost of installation, service calls, and financial reporting.
Accessible across all devices, from desktop to phone, it supports installers in running their businesses more profitably.