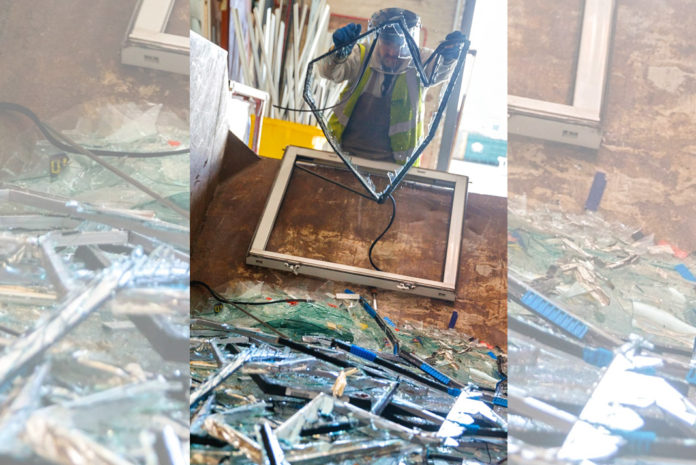 The CMS Group has reported another 12 months in which none of its production or post-consumer waste was sent to landfill, making it three 'zero landfill' years in a row.
In its last financial year (2019-2020) CMS says it handled 2,802 tonnes of waste, generated mainly from post-use windows and doors that its installers remove during replacement contracts but also including waste from its office and factory operations – all of which is recycled as standard. Of this waste, CMS says that 3.1% was reused, 96.5% was sent to be recycled and where possible remade into new products, including new glass double glazed units, and the remaining 0.4% was used by waste-to-energy specialists.
CMS claims that this latest 'zero landfill' achievement maintains its position at the forefront of sustainability in the facades, window and door market, and reflects the long-term success of its business strategy. Since its inception in 2006, the company has operated its own full scale in-house waste processing facilities to collect and separate all waste resulting from its manufacturing, installation and office functions.
Any post-use windows and doors extracted from properties during replacement contracts are collected on site and taken to CMS's Castlecary site to be separated into their constituent parts – mainly PVC-U, timber, aluminium, glass and steel – which is then sent to specialist recyclers. The team also identify products that can be re-used to ensure they completely avoid entering a waste stream, and the tiny proportion of materials that cannot be re-used or recycled are sent to waste-to-energy specialists
In line with its 'closed-loop' ethos, CMS also continues to ensure that its aluminium profile, PVCu systems and glass contain a high degree of recycled material for the manufacture of new facades, windows and doors. For example, through its partnership with Saint-Gobain Glass, double glazed units installed by CMS contain 38% of post-use recycled glass – an industry leading level.
CMS Group CEO, David Ritchie, said: "Hitting our zero landfill target for a third year in a row is a tremendous achievement and reflects the dedication and effort of the whole team in maintaining the highest levels of sustainable manufacturing and installation. Waste reduction and elimination is only going to become more important right across the construction and housing sectors as we work towards the zero carbon target dates set by Scottish and UK governments, so it is pleasing that we are already providing a successful model for the fenestration industry."
Based at Castlecary near Glasgow, with an additional production facility in East Kilbride, the CMS Group is reportedly Scotland's leading manufacturer and installer of curtain walling, windows and doors. It operates under three divisions: CMS Facades, providing curtain walling solutions UK-wide, social housing and housebuilding supplier CMS Window Systems, and CMS Trade, a manufacturer of Rehau windows and doors for trade installers.