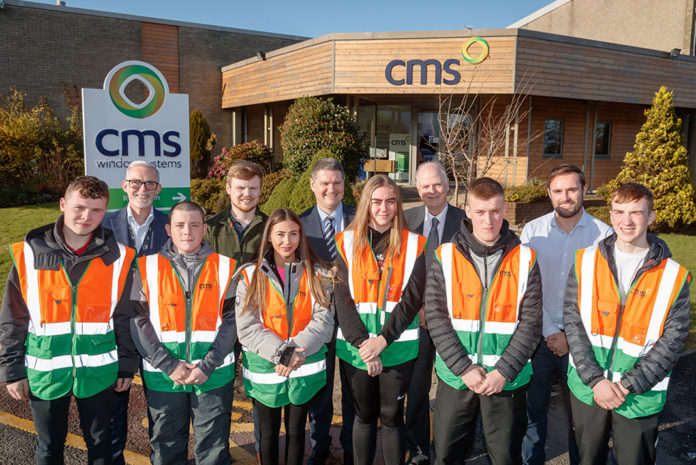 CMS Window Systems is working with North Lanarkshire Council as part of a new initiative to provide a vocational environment for winter 2019 school leavers to make the transition from education to the workplace.
The students eligible to leave school at Christmas 2019 on the 'Winter Leavers Programme' are utilising space within the CMS Innovation Hub at the company's Castlecary HQ near Glasgow. According to CMS, the This learning and development facility is providing a base from where the school leavers can engage with other local businesses through work experience and training, and importantly, spend the bulk of their time in a workplace environment. Three of the students, who are reported to have just turned 16, are undertaking work experience with CMS directly, two in stores and one placed within the IT department.
The local youngsters have all completed 4th year at secondary school but in the Scottish education system are required to stay in full-time education until Christmas 2019, because their 16th birthdays fall between October 2019 and February 2020. However, CMS says that the experience of schools across Scotland is that winter leaver students often become disengaged and feel penalised by these rules, which can have a negative impact in school on other students who have chosen to continue their education post-16.
David Ritchie, CEO of CMS Window Systems, said: "It is crucial that we support young people who are keen to learn and develop into our future workforce, and that's why we wanted to help North Lanarkshire Council with this excellent scheme. North Lanarkshire continues to be an excellent place for our business to be based with its fantastic communication links and a council that is very supportive of growing businesses.
"With our Innovation Hub, we have an ideal space for the young people on this programme to base themselves as this will help them to become familiar with a real-life working environment and ease the transition from education to work."
CMS stepped in to support North Lanarkshire Council's Winter Leavers Programme as part of its ongoing commitment to supporting its local communities. It is also supporting another of the council's initiatives, 'Give a Gift Card' Christmas appeal, which aims to ensure that every child in North Lanarkshire receives a gift this Christmas.
Social sustainability is said to be one of the core strands of CMS's business strategy with a comprehensive CSR programme in place, which already includes being a Living Wage employer and one of the biggest providers of apprenticeships of its kind in the Scottish manufacturing sector.
In addition to its HQ and main manufacturing and waste recycling facility at Castlecary, CMS operates factories in Kirkcaldy and East Kilbride, across which it employs more than 300 people in the design, manufacture and installation of PVC-U and aluminium windows, doors and curtain walling. The company works with local authorities, housing associations, housebuilders, commercial developers and trade window customers across Scotland and increasingly UK-wide.
Students on the North Lanarkshire Council 'Winter Leavers Programme', who are eligible to leave school at Christmas 2019, pictured with CMS CEO David Ritchie (centre, back row).