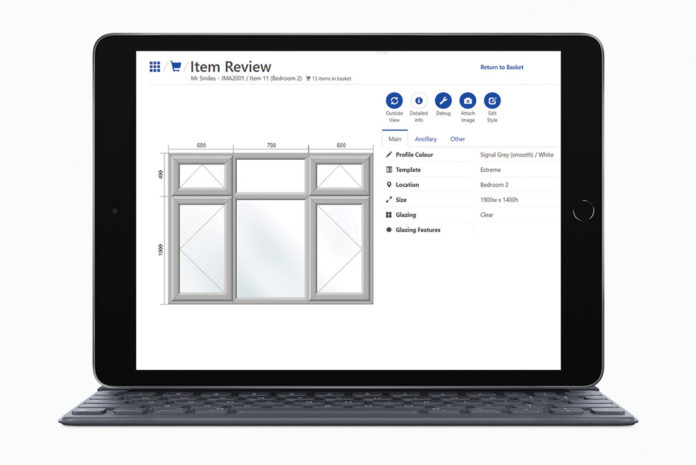 Retail fabricator Conservatory Outlet has revealed a new digital design package to support its customers' lockdown sales efforts.
The software, dubbed the Professional Design Service, was due to be officially unveiled to the Conservatory Outlet Network of retail installers in late Spring 2020, but the circumstances presented by the COVID-19 pandemic prompted priority final programming and testing to allow for an accelerated launch.
The system allows customers the freedom to select and design windows and doors in real time. The tool also offers customers 'clear and on-the-spot pricing' based on the designs they choose.
Originally conceived to be used face-to-face with customers, Conservatory Outlet says that its sales teams have been coached in the benefits of sharing their screens via apps like Zoom and Microsoft Teams to adapt their approach – helping hom-owners plan their new windows and doors 'virtually' in the comfort of their own homes.
Greg Kane, CEO at Conservatory Outlet, said: "The launch of our Professional Design Service (PDS) has always been a top priority for us, but there was never a more crucial time for us to accelerate our efforts to deliver an essential sales tool for our teams.
"Home improvements are all about visualisation. Making a significant investment like windows and doors, you need to really connect emotionally with the product and explore the huge range of options before you commit, which is exactly what PDS is designed to do. Now we've proved it can be used successfully online, this only heightens its huge sales potential for the future."
The design package has proved to be a great success for Conservatory Network, supporting lockdown sales efforts of more than £4m since its launch on 30March.
Edward Westbury, Sales Director at Network member, 5 Star Home Improvements, commented: "We're very grateful to Conservatory Outlet for prioritising the launch of PDS in the midst of the most challenging business conditions most of us have ever experienced. Their unwavering positivity has been a huge support to us over the past few weeks, and we have nothing but praise for the new PDS system which has helped us to secure a large number of contracts during lockdown."